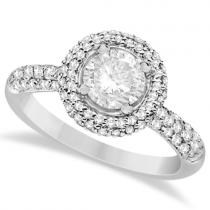 Moissanite is a hand cut jewel with more brilliance, fire, and luster than any diamond or gemstone.
New York, New York (PRWEB) September 30, 2013
The place—Vienna, 1477; the person — Archduke Maximilian of Austria; the occasion— the first known diamond engagement ring to be presented to his betrothed, Mary of Burgandy.
Recognized as a symbol of aristocracy and higher social class, diamond engagement rings were worn only by the wealthiest due to the rarity and expense of the stone. That all changed by the 1930s, thanks to increased production of diamonds and a brilliant marketing campaign that introduced these rare diamond gems to the western world, highlighting their nobility, importance and unmatchable value.
Today it has become customary for a woman to receive a diamond engagement ring as a symbol of commitment between her and her fiancé. But with diamond prices expected to rise an astounding 6% per year through 2020, couples could be scrambling for an alternative.
Enter Moissanite – a handmade jewel with more brilliance, fire, and luster than diamonds and gemstones, with an amazing toughness, at a remarkable price point.
Dennis Morgan, an executive for the highly respected online jewelry retailer Allurez says, "Moissanite gems are just incredible stones that are astonishingly brilliant. Many couples have been asking for an alternative to diamond engagement rings, and we can now confidently refer them to an incomparable gem…Moissanite. It's about the eighth of the price of natural diamonds that are so optically close to diamonds, even jewelers mistake them for diamonds unless they are carefully inspected with a magnified jeweler's loop."
Engagement rings are not the only jewelry item accented by diamonds, and the rising cost of these stones will have buyers looking for diamond alternative fashion jewelry as well. "We are now offering Moissanite pendants, earrings, anniversary bands, and bridal sets to an audience looking for these precious hand-cut gems. Moissanite's also appeal to those who support conflict-free diamonds. Although at Allurez all of our diamond jewelry is guaranteed conflict-free, many other diamonds sold elsewhere are still considered 'blood diamonds,' a practice in which we will never take part."
If it looks like a diamond, acts like a diamond, and sparkles like a diamond….it's a diamond. But if it looks brighter than a diamond, has more light refraction, and sparkles like no diamond you've seen before…it's a Moissanite.
Based in New York City and serving customers around the globe, Allurez Jewelers is a rising star in the field of luxury ecommerce. Allurez was recently ranked as the number one online-only jewelry retailer by TopTenReviews.com, and placed in the top three retailers overall. Their team of veteran jewelers specializes in all types of fine jewelry, including Moissanite rings, gemstone pendants, and other spectacular contemporary jewelry. Visit them online at Allurez.com.
Sources:
http://www.nationaljeweler.com/nj/diamonds/a/~30988-IDEX-Online-Diamond-prices-to
http://en.wikipedia.org/wiki/Diamond_engagement_rings