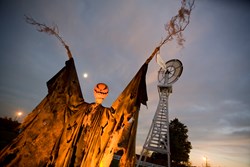 Dearborn, MI (PRWEB) September 25, 2013
From musically-inclined skeletons, thieving pirates, singing pumpkins and even the infamous headless horseman, you never know who you will encounter during Hallowe'en in Greenfield Village Oct. 11-13, 18-20 and 25-27. Unlike most Halloween celebrations, Hallowe'en in Greenfield Village is modeled after the holiday as it was celebrated during the first half of the 20th century and is fun for both kids and adults of all ages.
The village is truly transformed into enchanting paths lined with 1000 hand-carved jack-o'-lanterns and occupied by characters adorned in elaborate costumes inspired by the Hallowe'en party pamphlets of the early 1900s. Visitors can stop along the way and listen to enthusiastic storytellers retell the tales of Hansel & Gretel or Edgar Allan Poe's The Tell-Tale Heart. Walk through Sleepy Hollow Forest or sit back and watch classic 1930s era cartoons outside of the Sarah Jordan Boarding House.
Delectable meals and fall treats, including doughnuts, hot apple cider and Greenfield Village brewed beer, will be available in A Taste of History restaurant and the Guild Beer Hall. Tickets are $12.75 for members and $15 for non-members, children under two are free. Time slots are every half hour from 6:30 p.m. - 9 p.m. Fridays and Saturdays and 6:30 p.m. – 8 p.m. on Sundays. Purchase tickets online at http://www.thehenryford.org or call 313-982-6001.
Hallowe'en in Greenfield Village is sponsored by the Ford Motor Company Fund. For more information, visit http://www.thehenryford.org/events/halloweenEvent.aspx.
About The Henry Ford:
The Henry Ford in Dearborn, Michigan is an internationally-recognized cultural destination that brings the past forward by immersing visitors in the stories of ingenuity, resourcefulness and innovation that helped shape America. A national historic landmark with an unparalleled collection of artifacts from 300 years of American history, The Henry Ford is a force for sparking curiosity and inspiring tomorrow's innovators. Nearly two million visitors annually experience its five attractions: Henry Ford Museum, Greenfield Village, The Ford Rouge Factory Tour, The Benson Ford Research Center and The Henry Ford IMAX Theatre. A continually expanding array of content available online provides anytime, anywhere access. The Henry Ford is also home to Henry Ford Academy, a public charter high school which educates 485 students a year on the institution's campus. For more information please visit our website thehenryford.org.