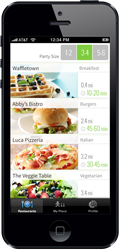 Pittsburgh is known for its big-time sports fans, and it's gaining notice as a tech city. NoWait brought those two worlds together, demonstrating how mobile technology will forever change our experience dining out in restaurants
Pittsburgh, PA (PRWEB) September 25, 2013
The iPad based wait list and seating management tool NoWait – which is currently used by more than 3,500 restaurants nationally – has launched their first app for consumers in Pittsburgh which allows diners to remotely add their name to the restaurant wait list.
Founded in Pittsburgh and now with offices in New York, NoWait had been beta testing the app for the past week before launching this past weekend in anticipation of long restaurant lines expected from the Sunday night Steelers game and final home games for the Pirates. The app has garnered a 97% approval rating with most guests remarking that the app is an indispensible feature for restaurants.
NoWait allows diners to:

View real-time waits of nearby restaurants
Add their name and party size to the restaurant's wait list
View and track their place in the overall wait line
Reduce their wait time from up to 90 minutes down to 5 minutes
"Using NoWait this weekend significantly helped us manage and quickly serve the large crowds, while fans were able to enjoy the games instead of being stuck in long lines all day," said Kristofer Brown, GM of Jerome Bettis Grille 36, a restaurant nearby where the games are being played.
The startup NoWait is the first among its competitors to launch a consumer app of this kind. Said CEO Ware Sykes, "Pittsburgh is known for its big-time sports fans, and it's gaining notice as a tech city. NoWait brought those two worlds together, demonstrating how mobile technology will forever change our experience dining out in restaurants."
NoWait's national restaurant seating management service is used in more than 3,500 restaurants, including Iron Chef Jose Garces' Village Whiskey in Philadelphia and Hubert Keller's Burger Bar in Las Vegas. Restaurants have used the service to seat 19 million diners across the country over the past two years. Since the beginning of this year alone, NoWait has increased the number of diners it reaches each month from 700,000 in January 2013 to currently seating more than 2 millions diners each month, and trending towards 3 Million per month by year's end. NoWait is working with more than 12 national restaurant chains.
NoWait's new consumer app can be downloaded for free from the AppStore here. The Restaurant Seating App is also available for free from the AppStore here. Restaurants under 200 wait list parties per month can continue using the app free of cost, while restaurants exceeding that volume pay a monthly fee for use.
The startup is backed by Birchmere Ventures. Based in Pittsburgh, PA, NoWait was built with seed funding from IW's AlphaLab Tech Accelerator and Carnegie Mellon University Open Field Entrepreneurs Fund. More information is available at: http://www.nowaitapp.com/. Follow NoWait on Twitter@NoWaitApp or on Facebook at http://www.facebook.com/nowaitapp.