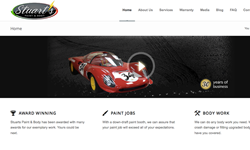 With almost 10,000 views, his online store boosts a conversion rate of 5.2% - more than twice that of ordinary ecommerce sites
Dallas, TX (PRWEB) September 25, 2013
Exotic car specialists, Stuart's Paint and Body Shop has been the 'go to' team for precision body shop and paint work for high performance and classic cars for many years in the North Texas area. Over time, the company has become the preferred repair shop not just for serious exotic and vintage car collectors around the U.S. but also for companies and dealerships.
Stuart and his team were recently featured in Discovery Channel's highly rated "Fast N' Loud" reality TV show. The body shop took on a daunting challenge of restoring a totally wrecked Ferrari F-40 to perfection.
"We got a call and realized there was some unique projects we could work on together with the Gas Monkey Garage guys here in Dallas, and it all came together really fast", said Stuart Singer, founder and owner of Stuart's Paint & Body Shop.
As production and filming for the show came together, Stuart re-launched his web page and filled it with videos hosted by Cinsay. "Before Cinsay, we didn't have anything for sale online, just an 'about us' page, some pictures and directions to the shop. Now, people come online, watch videos and post them to Facebook and we sell over two-dozen branded items like t-shirts, hoodies, iPhone covers and coffee mugs", added Stuart. Customers can even order their own professional shop shirt with their name embroidered on the pocket.
Cinsay On Demand creates their collectable apparel and even handles the credit card processing and shipping of individual purchases. Stuart receives a check each month on the store profits. "Cinsay handles all our video, promotion and branded merchandise so we can stay focused on our business and doing what we do best", added Stuart.
Each month, Stuart's fan-base continues to grow and his sales are increasing. Cinsay, along with his new followers, share his videos on tumblr, Facebook, twitter, Google and Pinterest. With almost 10,000 views, his online store boosts a conversion rate of 5.2% - more than twice that of ordinary ecommerce sites. The success of the Smart Store isn't measured just in merchandise sales but has also brought new exotic car owners into the shop for restorations, paint and body repairs.
"It's just been a few months, but already the Smart Store has exceeded our expectations of what we thought would happen. I'm thrilled we added the video technology and looking forward to even more success moving forward," Stuart said.
Cinsay promotes merchant's Smart Stores on MyCinsay.com and feature thousands of shoppable items and services from all over the U.S. and around the world. Along with the marketplace, Cinsay also hosts R2RLive.com; a multi-genre music portal and home to hundreds of musicians and bands. Viewers can not only watch HD music videos but also purchase exclusive band merchandise directly inside the video.
Visit Cinsay's sites and discover why individuals and businesses of all sizes are leveraging the power of video, over the web and mobile, to market, capture leads and sell more than ever before.
Cinsay.com
MyCinsay.com
CinsayOnDemand.com
R2RLive.com