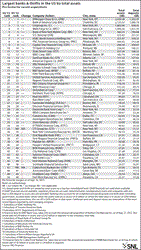 The company is very focused on growing the deposit funding in our bank.
(PRWEB) September 26, 2013
JPMorgan Chase & Co., Bank of America Corp., Citigroup Inc. and Wells Fargo & Co. remain the four largest banks in the U.S., while CIT Group Inc. is now the 35th largest, according to SNL Financial's second-quarter ranking of the largest 50 banks and thrifts.
During the second quarter, CIT Group's deposits grew to 25.03% of assets, meeting the 25% threshold to be included in SNL's top 50 bank and thrift list. CIT Group became a bank holding company in the fourth quarter of 2008, at which time its $2.63 billion of deposits were just 3.27% of its $80.45 billion in assets. CIT Group adopted bank holding company status to get access to the U.S. Treasury's Troubled Asset Relief Program. It received $2.33 billion under TARP, but the capital infusion did not save the company from declaring bankruptcy in November 2009, costing the U.S. government its entire investment. Since emerging from bankruptcy in late 2009, the commercial lender has grown its deposits to $11.2 billion, largely through its online bank and brokered deposits, while its assets are now less than $50 billion at $44.63 billion.
CIT Group intends to keep growing its business out of its bank unit, Salt Lake City-based CIT Bank. At an investor conference presentation Sept. 10, CFO Scott Parker said the company is "very focused on growing the deposit funding in our bank," according to a transcript. The company also has long-standing plans for a significant portion of its lending business to be done from the bank. CEO John Thain said at the conference that CIT Group now has about 30% of its commercial assets at CIT Bank.
Further down the ranking, San Antonio-based Cullen/Frost Bankers Inc. has announced a merger and re-entered the top 50 ranking at No. 47, after a brief absence from the list. The bank said in August it would acquire Odessa, Texas-based WNB Bancshares Inc. for $220.0 million. Cullen/Frost's pro forma assets of $23.99 billion reflect the sum of WNB Bancshares' $1.42 billion in assets and Cullen/Frost Bankers' $22.57 billion in assets as of June 30.
For more information, read the full article here: http://www.snl.com/InteractiveX/Article.aspx?cdid=A-25151558-13865.