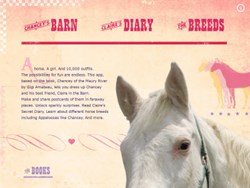 Richmond, VA (PRWEB) September 27, 2013
The possibilities for fun are endless. Dress up Chancey, a beloved horse from the popular Horses of the Maury River children's book series, and his best friend, Claire. Make and share postcards of them in faraway places. Unlock sparkly surprises. Read Claire's Secret Diary.
Dogtown Pursuits, LLC, announces the release of its Chancey of the Maury River iPad app, an interactive companion dress-up game based on the book's main characters. The touching tale of these best friends launched the Horses of the Maury River (Candlewick Press) series by award-winning, Richmond-based author Gigi Amateau.
"My readers really relate to the friendship between Chancey and Claire because they have deep bonds with the animals in their own lives, including horses," said Amateau, whose own horse, Albert, inspired Chancey. "I loved bringing Chancey and Claire to life in a digital environment."
For kids who love reading, the app offers exclusive, new story material in a game environment. For kids who love horses, the app is chock full of horse information and an exquisite dress-up game set in a stable scene with original artwork. With this app, kids will:

Play Chancey's Barn dress-up game, mix and match 10,000 outfits—for riding, racing and the runway.
Find hidden blue ribbons and unlock sparkly surprises.
Make postcards of Chancey and Claire in faraway places, add captions and share with friends.
Learn about horse breeds including Appaloosas (Chancey's breed), Thoroughbreds, Belgian Drafts, Hanoverians, as well as Welsh and Shetland ponies.
Read Claire's Secret Diary to discover why every horse needs a girl and get to know Chancey, a gentle horse born under a "fire star."
Preview a chapter of Macadoo of the Maury River, the second book in the Horses of the Maury River series that was released on August 6, 2013.
The app was developed in partnership with Michael Portis and his company Three Hats.
Pricing and Availability: The Chancey of the Maury River app is for children aged 7 and up and is available for iPad through the app store on iTunes, priced at $.99. Review downloads are available upon request. An Android version of the app compatible for Kobo Arc, Nook HD, and Kindle Fire is in development and slated for release later this fall.
Chancey of the Maury River App on iTunes: https://itunes.apple.com/us/app/chancey-of-the-maury-river/id686598671?ls=1&mt=8
Chancey of the Maury River App trailer: http://www.youtube.com/watch?v=FaBn1RZdxWc
For more information, visit http://www.gigiamateau.com , http://www.dogtownpursuits.com, http://www.threehats.mobi, and http://www.candlewick.com. Author Gigi Amateau and the app development team are also available for interviews.
For a review code, contact John W. Sanderson, Jr. at 804.484-4526 or e-mail info(at)dogtownpursuits(dot)com.