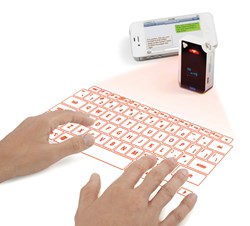 Merrimack, NH (PRWEB) September 25, 2013
Brookstone, the multichannel specialty retailer and product development company, has introduced the Brookstone Virtual Laser Projection Keyboard, a full QWERTY laser keyboard for typing on smartphones and tablets.
CTX patented laser technology and built-in laser optics make composing emails on phones or tablets a breeze. The Brookstone Virtual Keyboard fits in a pocket or purse, connects to a phone or tablet via Bluetooth and projects a laser keyboard onto virtually any flat surface.
The future is today
Featuring a rechargeable lithium-ion battery for more than two hours of continuous typing on the go, the Brookstone Virtual Keyboard is deal for business and home. Business travelers can compose emails and edit documents on the fly without firing up a bulky laptop. Working from home? Go from workstation to kitchen table in a snap, and forget about the bulky laptop and cord spaghetti.
"The combination of design, advanced optics, and laser technology puts the future at your fingertips," said Steve Schwartz, Vice President of Merchandising & Product Development for Brookstone. "We're [Brookstone is] known for fun innovative products, and the Brookstone Virtual Keyboard delivers."
Brookstone Virtual Keyboard features:

Lithium-ion battery with more than two hours of battery life via rechargeable micro USB
72 key, full-size QWERTY keyboard
Virtual mouse function lets you point and click with your finger
Works with most Bluetooth devices including smartphones and tablets
The Brookstone Virtual Keyboard is available on Brookstone.com today and in Brookstone stores October 15, 2013 for $99.99.
About Brookstone
About—Brookstone is an innovative product development company and multichannel lifestyle retailer. Brookstone operates more than 250 stores nationwide and in Puerto Rico. Located in high-traffic shopping malls and airports, the stores feature unique and innovative consumer products. Brookstone also operates an e-commerce business that includes the Brookstone catalog and Brookstone.com. Fans of Brookstone are encouraged to like Brookstone on Facebook, follow on Twitter and The Fancy, and pin on Pinterest.