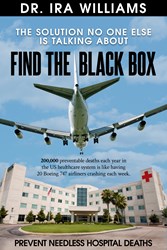 Greenville, SC (PRWEB) September 27, 2013
For those tired of the medical errors-prone health care delivery system, and needless hospital deaths, Dr. Ira Williams sets forth in his third book to speak directly to how all of the quality of health care experts have failed to recognize, or choose to ignore each state's responsibility for creating and maintaining a systematic health care delivery system.
Williams' book insists that any review of the quality of health care literature will reveal the complete absence of the two fundamental facts of all health care; all medical care is local and that states license doctors. Find the Black Box further claims that no state governor or legislator, past or present, has recognized that each state bears the responsibility of creating and maintaining a functional health care delivery system for their citizens.
"Hard questions must be asked, and detailed answers must be demanded." The basic fundamentals of all patient care must be recognized and addressed in all future efforts to improve the quality of health care and patient safety. But in order to ask those hard questions, and hope to receive detail answers, the current army of quality of health care experts must first recognize each state's responsibility in the delivery of health care says Dr. Williams.
Dr. Williams has identified 16 separate components of the South Carolina health care delivery system, where he lives, and he mentions, "they function as if they all speak a different language." Find the Black Box has been written to show the health care delivery experts the details on why every state's health care system truly is broken, and why trying to "fix their state's health care system" one bill at a time, regardless of how beneficial each bill might be, "is literally like trying to empty a large lake one bucket full at a time."
The habitual use of the word "system" when talking about health care only serves to continually obscure the fact that that "system" is devoid of any systematic characteristics, and further obscures the fact that the nation that allowed men to walk on the moon and return safely, has never created, or even attempted to create an organizational structure for one of our most important "systems."
About Dr. Ira Williams: Dual careers include over fifty years in health care as a board certified oral & maxillofacial surgeon, anesthesiologist, and surgical innovator, and as a retired, USAF major and senior navigator/bombardier, and private pilot. Both careers have contributed in his efforts to write three books in ten years regarding our current unorganized, dysfunctional, and oft-times chaotic health care delivery system.