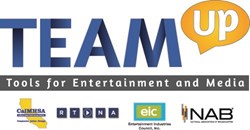 ...When more stories about people with a mental illness contain authentic and balanced portrayals, the public is likely to get a more realistic picture of living with mental illness...--Marie Gallo Dyak, TEAM Up Program Director, EIC
Los Angeles, CA (PRWEB) September 26, 2013
As Suicide Prevention Month puts mental health at the forefront of news coverage this September, the Entertainment Industries Council, Inc. (EIC) offers resources to help journalists and entertainment industry professionals create accurate stories about people living with mental illness and get stories about suicide right.
EIC's TEAM Up (Tools for Entertainment and Media) initiative created a style guide for journalists and others who report on stories that touch on mental health issues, including entries on mental health, sourcing, relevance, suicide and specific mental illnesses. A media toolkit includes tips on interviewing people living with mental illness, story ideas and sample news stories. The style guide and toolkit in English and Spanish are downloadable online. In addition, the website offers members of the entertainment industry suggestions for depicting characters and storylines involving mental health issues in movies, TV shows and comic books.
Evidence suggests that certain types of media reporting can be tied to an increase in suicides, also known as suicide contagion. When not handled carefully, news article and entertainment media placement and details about suicide can raise the risk of suicide for people who are vulnerable and at risk.
"The resources we have created will help journalists and entertainment writers identify key issues to consider when writing stories with a mental health or suicide angle," said Marie Gallo Dyak, TEAM Up Program Director and EIC's Executive Vice President, Program Services and Government Relations. "When more stories about people with a mental illness contain authentic and balanced portrayals, the public is likely to get a more realistic picture of living with mental illness. A lack of understanding can foster stigma and discrimination, which both may deter individuals and families from seeking help. We are focused on providing resources that reverse that trend and increase help-seeking behavior."
Suicide Prevention Month helps to raise awareness of the help available to people who may be at risk for suicide. If you or someone you know is in crisis or shows signs of hopelessness, anxiety or withdrawal, seek help as soon as possible by calling the National Suicide Prevention Lifeline at 1-800-273-TALK (8255). Information also is available at http://www.suicidepreventionlifeline.org.
If you are a veteran or know of a veteran in crisis, call the Veterans Crisis Line at 1-800-273-8255 and Press 1, go to the online chat at VeteransCrisisLine.net/Chat, or text to 838255 for free, confidential support 24 hours a day, seven days a week, 365 days a year. You can also help spread the word by visiting VeteransCrisisLine.net/SPMToolkit to download free Suicide Prevention Month materials.
TEAM Up, funded by California's Mental Health Services Act (Proposition 63), has solicited ideas and information from journalists, entertainment industry leaders and mental health experts to create these resources. Media and entertainment professionals can play a significant role in the public's understanding of mental health. Inaccurate or unbalanced portrayals of individuals living with mental illness fuel misconceptions and subsequent discrimination, which deter individuals from seeking services and support for their mental health challenges. TEAM Up is one of the Prevention and Early Intervention projects administered by the California Mental Health Services Authority and headed up by EIC. TEAM Up's media partners include the National Association of Broadcasters and the Radio Television Digital News Association.
Visit http://www.eiconline.org/teamup to learn more about the TEAM Up initiative and download vital resources for accurate mental health coverage, including the Style Guide: Reporting on Mental Health and the California News Media Analysis. Follow @MediaTEAMUp for daily highlights of accurate mental health news coverage, the latest in California mental health news and resources that provide guidance for responsible coverage.
About the Entertainment Industries Council (EIC)
EIC is a nonprofit organization founded in 1983 by leaders within the entertainment industry to bring their power and influence to bear on communication about health and social issues. The organization is considered to be the chief pioneer of entertainment and journalism outreach and a premiere success story in the field of entertainment education. This mission relies on providing resource information to the creative community and culminates in recognition of the industry through the national television special PRISM Awards Showcase, which addresses accurate portrayals of substance use issues and mental health concerns. The organization also produces the SET Awards, honoring positive and nonstereotypical portrayals of science, engineering and technology.
For a complete list of health and social issues addressed by EIC and local projects, please visit EIC's website at http://www.eiconline.org. The PRISM Awards website is http://www.prismawards.com.
About the California Mental Health Services Authority (CalMHSA)
A portion of the Entertainment Industries Council's mental health programming is funded by the voter‐approved Mental Health Services Act (Proposition 63). It is one of several Prevention and Early Intervention initiatives implemented by CalMHSA, an organization of county governments working to improve mental health outcomes for individuals, families and communities. For more information, visit http://www.calmhsa.org.
###