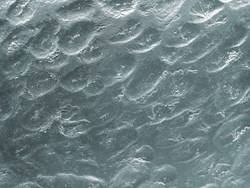 The texture is hand-made and unique just like a person's fingerprints.
(PRWEB) September 25, 2013
ThinkGlass is well known for the spectacular glass countertops they make. These glass kitchen countertops are 1.5 inches thick; made of three layers of glass fused together by heat.
The thermofusing process for making these durable glass kitchen countertops requires the glass to sit on a textured surface. That texture is reproduced for each countertop by hand, without the use of a template or mold. The client chooses which texture they like among textures available for the glass applications. Then each countertop receives a similar texture that is never identical but always complementary.
Interestingly the hand that makes these textures is the inspiration for this new rounder and organic texture named PAUMA. Using the palm of his hand (Paume in French), co-owner and Glass Artist Mailhot shapes the texture for the specific glass application. The texture is hand-made and unique just like a person's fingerprints. Clients can find this texture under the Organic Textures tab on the ThinkGlass Website.
"No other material has this relationship with light; glass is like a light magnet. The piece of glass on a sunny morning is not the same at sunset and will be different again the next morning if it is rather cloudy," said Michel Mailhot, Glass Master, Artist and co-owner at ThinkGlass.
"Glass is living through light. It's captivating. It is also the best chameleon material that can meld into any decor or space. In the history of the glass was never set aside, it is always present in the human construction."
The texture is found on the underside of the glass countertop and minimizes the visibility of spills and fingertips marks. This texture eliminates the need to constantly wipe and polish the countertops like a regular glass table.
Glass is a wonderful material, and under the mastery of Michel Mailhot it becomes something ethereal, luminescent and also permanent. Glass will not change under sunlight, with age or exposure to the environment. Without being noticed, Glass is always present in our lives (home windows, cars windows, drinking glasses, mirrors and decorative elements) and selecting it to be the visual centerpiece of a room is an obvious choice.
ThinkGlass glass creations are unique, strong and durable. Combined with natural or artificial light they become mesmerizing.
About ThinkGlass
The ThinkGlass story began in 1999 in an empty room under the leadership of two creative individuals who were passionate about beautiful glasswork. Today, the company is one of the most successful glass design and manufacturing studios in the world with a shop that encompasses more than 30,000 square feet, 27 employees and 21 state-of-the-art, custom made ovens.
ThinkGlass is still headed by its two original founders – glass master Michel Mailhot who is the artistic soul of the company, and Bertrand Charest, a certified engineer and company president. Together with their talented team, they produce all manners of glass masterpieces, from residential kitchen to bath- room vanity countertops and backsplashes to fantastical sculptures, wall murals and floor tiles, and even large-scale commercial projects for restaurants, nightclubs and offices.
ThinkGlass quickly became a leader in the thermoforming industry by pioneering a versatile technique that allows the creation of new or repetitive textures. This process allows the creation of glass slabs without thickness constraints opening the door to all kinds of design possibilities. All ThinkGlass creations are made from 100% recyclable glass using sustainable practices and without the use of any adhesive or sealant potentially containing harmful volatile organic compounds (VOCs).
For more information about ThinkGlass products, visit thinkglass.com or call 1-877-410-4527.