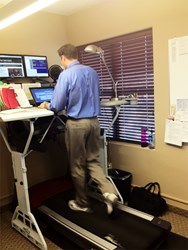 It would take the average American 40 work weeks to accomplish what Kirklyn did at the office in a single week.
Boise, ID (PRWEB) September 25, 2013
The average American adult walks approximately 5,000 steps per day despite the Surgeon General's recommended minimum of 10,000 (5 miles). Long commutes, full days stuck in an office chair and an increase in home TV/computer activities are often cited as the main reasons for America's activity decline. But to some innovative and proactive Americans, these are health obstacles that need to be overcome. Kirklyn Smith, an executive and marathon desk trekker, is one of those individuals. After previously walking a marathon equivalent 26.2 miles in a single day at the office, he is the first individual to ever walk 100 miles in a work week using his TrekDesk Treadmill Desk.
How does he do it? "I like walking at 2.5 m/p/h with a 5% incline. This has been a pace that has worked well for me during the past 2 years, and has allowed me to work up to a level where walking 15-20 miles a day is pretty standard. I love it when things get busy at the office, and I just forget that I'm walking."
"It would take the average American 40 work weeks to accomplish what Kirklyn did at the office in a single week," stated Steve Bordley, CEO of TrekDesk Treadmill Desk. "Not only is that impressive, but more importantly, it reflects just how little the general population is moving when it would take the average employee ¾ of a year to achieve that much movement."
Kirklyn Smith is 34 years old and serves as the Director of Operations for EOI Direct. He lives in Boise, Idaho with his wife, Cherish. He started using the TrekDesk in April, 2010. Designed to fit any existing treadmill, TrekDesk treadmill desk is an affordable, full sized, height adjustable workstation that allows individuals the opportunity to gain the necessary amount of daily exercise to lose weight, maintain health, reduce stress, prevent disease, strengthen muscles, boost mood and productivity, without requiring additional time during the day or extra motivation.
Join the TrekDesk "Movement Revolution" to learn more, spread the gospel regarding movement, or win a free TrekDesk http://www.facebook.com/trekdesk, or follow TrekDesk on twitter http://www.twitter.com/trekdesk. TrekDesk treadmill desk is currently available for sale online at http://www.trekdesk.com.