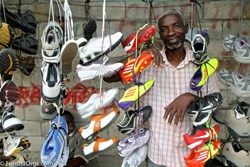 In some cases, folks that participated have made several thousand dollars in a few weeks by recycling shoes.
Orlando, Florida (PRWEB) September 26, 2013
As the majority of the 1.5 million US nonprofit organizations struggle to achieve a consistent revenue stream and financial sustainability, Funds2Orgs social enterprise presents a realistic fundraising solution in the United States as well as developing nations with devastated economies. Funds2Orgs is "stomping out" unemployment, providing Americans with opportunities to generate income by collecting and recycling gently worn shoes which are then utilized for microenterprise in locations abroad.
"When I was a young boy, I recycled aluminum cans by the pound. This is very similar as we pay people to recycle shoes, putting them in trash bags and paying them for their efforts," said Tom Henderson, Chief Fundraising Strategist at Funds2Orgs.
"We have tested this model in several cities and are absolutely amazed at the results. In some cases, folks that participated have made several thousand dollars in a few weeks by recycling shoes," added Henderson.
Hundreds of charities are currently getting paid to collect gently worn shoes, as well as a large response from schools creating Funds2Orgs shoe drives. In the instance of international nonprofit Dando Amor, co-founder Travis Gugelman cited gains of over $42,000 within a 60-day Funds2Orgs fundraising effort. Whether organizations choose the option of a Flash Drive or Mega Drive, they receive a Funds2Orgs check within 48 hours of when collections are picked up and reconciled.
At this point, the shoes received by Funds2Orgs are sent to hub operators in developing nations who are able to provide vendors with products to clean, repair and re-sell for profit margin. The families that sell these shoes are families that have little to no income or livelihood. These otherwise discarded shoes now represent micro-enterprise opportunities and for many, possibly the only chance at true self-sustainability.
About Funds2Orgs
Funds2Orgs is a Social Enterprise that offers real, relevant and engaging Fundraising strategies that are proven with a vertical humanitarian impact. Funds2Orgs provides turnkey solutions to engaging volunteers and creating powerful events that drive funds for nonprofit organizations by collecting, distributing and repurposing discarded articles such as shoes, clothing, purses, cell phones and other electronic goods. For more information, visit http://www.funds2orgs.com.