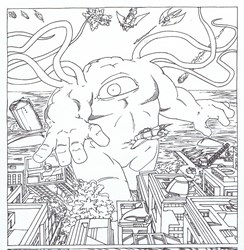 Minneapolis, Minnesota (PRWEB) September 27, 2013
"This comic is for all ages, but delivers the over the top action the underground artist is known for. If you like like Kaiju monsters fighting giant robots, gun happy dwarf vigilantes, Zeus loving Centaurs, busty black cowgirls and a sexy died blond Vietnamese nurse beating down a werewolf with a baseball bat wrapped in barbwire-like I have on page 10!- this is the comic for you!" Enthused Sandez Rey. "I've been called the most psychotronic artist in America and I intend to defend that title! This comic kicks the teeth out of boring mainstream comics and does it with a smile!"
This project went live on Kickstarter Sept. 24 and has 30 days to raise the $7,600 that Sandez Rey wants to print, distribute and promote this comic independently. "I was one of the original '70's Punks and I want to recapture the energy and fun of that era on every page." Rey explains; "I want this comic to rock like the Ramones playing Surfing Bird--with the support of a small number of alternative comic fans, we can do it together!"