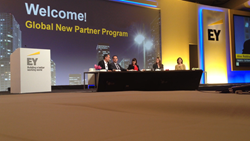 Continuous innovation is something we all need to do to compete effectively.
Naples, Florida (PRWEB) September 26, 2013
How do entrepreneurs effectively ignite their innovation journeys? Belatrix Software, the leading Nearshore Agile software innovation firm, announced that its Co-Founder, Alex Robbio, this past weekend participated in Ernst and Young's (EY) Annual Global New Partner gathering at the Fountainbleu Hotel in Miami, Florida. Alex Robbio was invited to represent Belatrix and the Endeavor Entrepreneurs Network on a panel discussing Innovation and Entrepreneurship. Belatrix was honored to be invited to contribute to the panel which was chaired by Maria Pinelli, EY's Global Vice Chair of Strategic Growth Markets, one of EY's executives in charge of Endeavor's Entrepreneur of the Year award program. The event was host to more than 500 of EY's Global Partners. Belatrix shared its perspective on growing its own firm, as well as insight into how it works with fast forward firms on their software development using a Design Thinking mindset.
"The story of Belatrix's own evolution really seemed to resonate with the audience. Entrepreneurship is about taking that vision for a company and transforming that into commercial success," said Alex Robbio, Co-Founder of Belatrix Software. "We are doing that as a company, but we're also fortunate to specialize in helping our clients achieve their innovation journeys. Continuous innovation is something we all need to do to compete effectively."
About Belatrix Software
Belatrix Software helps clients achieve the full impact of their R&D capabilities. Belatrix develops high quality, innovative software, QA and testing that enables clients to generate best-in-class, revenue producing software products, decrease time to market, and gain competitive edge. The company's mission is to be a passionate global partner delivering software innovation to enhance client's aspirations. Belatrix's clients include both established Fortune level and emerging, venture backed firms. A rising brand in Nearshore Agile outsourced software development, Belatrix Software has relationships with Adobe, SirrusFM, mFoundary, and Chatham Financial. Belatrix is headquartered in Mendoza, Argentina with offices in Boston, Naples, Mendoza, and Lima. For more information, please call 617-608-1413 or visit http://belatrixsf.com.