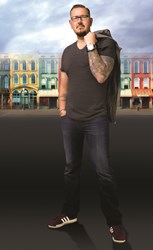 "START UP demystifies the process of starting and running a small business in today's economic landscape," says Bredow. "The merchants featured in our series embody the spirit of the American entrepreneur and we hope that they will inspire viewers."
Detroit, MI (PRWEB) September 26, 2013
START UP, a new television docuseries highlighting the struggles and victories of entrepreneurs in eight cities across the United States, debuts on public television this month (check local listings). Sponsored by American Express, Chevrolet, and Walsh College, START UP provides an up close and personal look into today's small business success stories. In each episode, creator and host Gary Bredow, director Per Franchell, and producer Jenny Feterovich reveal the experiences of individuals who have taken ideas and nurtured them into established businesses in an uncertain economy. (http://startup-usa.com)
The series has been distributed to more than 350 public television stations nationwide.
"START UP demystifies the process of starting and running a small business in today's economic landscape," says Bredow. "The merchants featured in our series embody the spirit of the American entrepreneur and we hope that they will inspire viewers who dream of taking a leap and starting their own business."
Each episode of START UP features a well-known business leader who provides insight into the triumphs and pitfalls of entrepreneurship. Among those featured in the first season of the series are Scott Case, Founding CEO at Startup America Partnership and Founding CTO Priceline.com, Angie Hicks, Co-Founder and Chief Marketing Officer of Angie's List, Daymond John, Founder and CEO of FUBU and investor on ABC reality TV show Shark Tank, and Danny Meyer, CEO of Union Square Hospitality Group.
Among the entrepreneurs featured in the series is Tawny Thieu, founder of Pink Pump, a Michigan-based chain of women's fashion boutiques. Thieu's success was hard earned. She'd worked in salons since she was 15, and founded her first venture, a hair salon, after graduating college. She then invested all of her savings into launching a women's shoe store. It failed only one year later. Still, Thieu persevered. "You can channel that negativity and you can channel any challenges that come your way," she says. "It's all about what you make of it." Applying valuable lessons learned from failure, she pulled together financing and came back stronger. "If you really want it, you have to find a way to get the money," she says. "Because at the end of the day a dream is great, but you have to make that dream happen."
In its first season, START UP features small business owners in Chicago, Cleveland, Detroit, Indianapolis, Milwaukee, New York City, Pittsburgh, and Washington D.C. "It's estimated that 85 percent of new businesses fail," says Bredow. "Those who've succeeded have valuable lessons to reveal and we are excited to share their stories."
***
About American Express
American Express is a global services company, providing customers with access to products, insights and experiences that enrich lives and build business success. The US Small Merchants organization – dedicated to helping small merchants succeed and grow by providing them with a range of tools and resources as well as advocacy and support – falls with Global Merchant Services is the merchant network at American Express, which acquires and maintains relationships with millions of merchants around the world that welcome American Express-branded Cards. Learn more at americanexpress.com and connect with us on facebook.com/americanexpress, foursquare.com/americanexpress, linkedin.com/companies/american-express, twitter.com/americanexpress, and youtube.com/americanexpress.
Key links to products and services: charge and credit cards, business credit cards, travel services, gift cards, prepaid cards, merchant services, business travel, and corporate card.
About Chevrolet
Founded in 1911 in Detroit, Chevrolet is now one of the world's largest car brands, doing business in more than 140 countries and selling more than 4.5 million cars and trucks a year. Chevrolet provides customers with fuel-efficient vehicles that feature spirited performance, expressive design, and high quality. More information on Chevrolet models can be found at http://www.chevrolet.com.
About Walsh College
Founded in 1922, Walsh College, one of Southeast Michigan's largest not for profit business schools, offers upper-division undergraduate and graduate business and technology degrees and certificate programs at locations in Troy, Novi, Clinton Township, and Port Huron, as well as online. Walsh's business services division offers the Walsh Institute, designed to provide solutions for businesses through training, continuing education and consulting. Walsh is accredited by The Higher Learning Commission of the North Central Association of Colleges and Schools (http://www.ncahlc.org; phone: 312-263-0456) and the International Assembly for Collegiate Business Education (IACBE, http://www.iacbe.org). The Accreditation Council for Business Schools and Programs (ACBSP, http://www.acbsp.org) accredits specific degree programs.