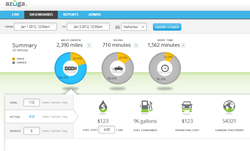 This is the future of GPS tracking and driver behavior applications.
San Jose, Ca. (PRWEB) September 26, 2013
Azuga, a leading instant-install cloud-based GPS fleet tracking and driver behavior solution, delivers a combination of services that have been rapidly adopted by security and investigative surveillance teams across the country. Companies across the country are experiencing Azuga's ability to address the unique needs of security fleets with breakthrough pricing ($0.70 per day/per vehicle), lifetime hardware warranties and no contracts – all industry firsts.
Knowing a vehicle's exact location allows fleet managers and business owners to locate a driver at any time and immediately provide customers with proof-of-visit. Furthermore, Azuga's instant-install OBDII communicates directly with an online tracking platform that helps choose the best routes, saving time, avoiding high fuel costs and reducing excessive mileage.
Powered by Azuga's G2TM technology, the device "reads" vehicles' engine data up to 60 times more often than standard GPS tracking systems and sends data to the cloud, giving security fleet administrators real-time snapshots of location, entry and exit into virtual perimeters (geofenencing), vehicle health, fuel usage, Carbon footprint and driver behavior.
PhotoFax, a surveillance and special investigations company with more than 60 offices across the country, has been an Azuga customer since March 2013. The security leader chose Azuga because it needed to immediately pinpoint the location of any driver, as well as maintain accurate mileage records to within 0.5 percent for fuel reimbursement.
"I've tried them all and the hassle wasn't worth it," said John Todaro, human resources and operations manager, PhotoFax. "I chose the Azuga G2 system based on overall functionality, accuracy of location and mileage, customer support and willingness to partner on the product roadmap."
Keyth Technologies, a full service security company with offices in Illinois and Wisconsin recently switched over to Azuga after a long tenure with a vehicle-installed GPS system.
'This is the future of GPS tracking and driver behavior applications" said Kevin Wallace, fleet manager at Keyth. "Plug-and-play hardware and extremely useful insights into both location and engine data"
"Cloud-based software management and GPS device hardware have experienced both significant advancements in technology, as well cost savings in the last three years. The industry has not passed on these savings to customers," said Ananth Rani, vice president and general manager of Azuga. "Azuga delivers streamlined services that are available to all customers and when used to their full potential can be the answer for any business with fleet tracking needs, particularly those in the security industry."
Azuga is led by a team of industry veterans with experience at Ford, GM, AT&T, Oracle, Xora, Telenav and Qualcomm. In addition, its parent company, Danlaw, Inc. manufactures Azuga's OBDII device, ensuring hardware performance that's trusted by top insurance companies. For each product sold, Azuga donates a portion to a charity of the customer's choice – several large organizations like the Leukemia and Lymphoma foundation, American Diabetes Association, World Vision and Save The Children have benefited from these contributions.
About Azuga
San Jose-based Azuga is shaking up the traditional GPS vehicle tracking market with industry-first price points, easy-install hardware, lifetime warranties and no contract terms. The company's cloud-based Azuga G2TM technology can begin tracking fleets in as little as 22 seconds and for just 70 cents per day per vehicle. Azuga is a subsidiary of Danlaw, Inc. whose 300+ engineering professionals have been providing cloud-based, connected vehicle telematics solutions and embedded electronics to OEM's and their Tier-1 supply base for more than 29 years. For more information, visit http://www.azuga.com and follow @Azuga_GPS on Twitter.