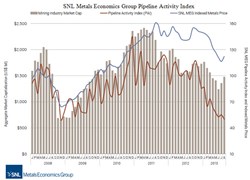 (PRWEB) September 26, 2013
A modest recovery for the gold price helped SNL MEG's Pipeline Activity Index (PAI) reverse a fourmonth slide in July, but the turnaround was short-lived. Ongoing financing pressures on the junior exploration sector, budget cuts by major and intermediate producers, and unfavorable commodity outlooks continue to severely affect grassroots exploration activity—including initial resources announcements and drilling activity, the project development pipeline, and M&A activity. The PAI dropped to the second lowest level in its history in August, surpassed only by the lows of the financial crisis in late 2008. The question now is—is this the bottom?
Improvement in commodity prices was enough to help the industry's aggregate market cap increase in both July and August to finish August at $1.48 trillion—its highest point since March. This total is still lower than any month in 2012.
Despite the ongoing pressures on the junior exploration sector, the number of significant drill results remained relatively level for gold and base metals over the past five months. The number of significant results announced in July-August was almost unchanged from May-June, but is down more than 30% from same period last year. The seasonal North American exploration reporting cycle is helping to keep the current numbers steady, along with ongoing activity by intermediates and a limited number of sufficiently funded juniors. Drilling activity typically slows in the months leading up to the holiday season, and given the ongoing difficulty of obtaining financing, we expect this year's decline to begin sooner than in previous years.
About SNL Metals Economics Group:
SNL Metals Economics Group (SNL MEG) is the most trusted source of global mining information and analysis. We draw on more than three decades of comprehensive information and analysis, with an unsurpassed level of experience and historical data. To help our clients reach better decisions more quickly, we supply raw data and sophisticated analysis based on unbiased research and reporting. From worldwide exploration, development, and production to strategic planning and acquisitions activity—our databases and studies help you make confident decisions and, ultimately, improve results.
Click here to view this report in pdf format. Not for redistribution.