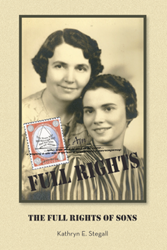 Armed with Scripture, author Kathryn Stegall presents her interpretation of the rights of women to act as full sons in Christ, sharing her views in this well-researched new book.
Perry, KS (PRWEB) September 25, 2013
A restlessness with the teachings of her church – the Reformed Presbyterian Church of North America – and its interpretation of the role of women in church leadership inspired a theology seminary graduate to explore the topic for herself. Armed with Scripture, author Kathryn Stegall presents her interpretation of the rights of women to act as full sons in Christ, sharing her views in this well-researched new book. She supports the equality of men and women in the church, family and society, pointing out that those views were shared by apostles, prophets and early church fathers, and affirmed by the reformers and Christians today who look at Scripture as the living word of God.
"The Full Rights of Sons" makes its case through descriptions of long-established principles of the orthodox and reformed Christian faith, basic Bible knowledge, common-sense understanding of language and accepted rules for Scripture interpretation. Stegall writes with a conversational tone rather than a scholarly one, boiling down questions of faith to their essence. In support of her belief that all church members are equal, she quotes Galatians 3:26-29: "You are all Sons of God through faith in Chris Jesus, for all of you who were baptized into Christ have clothes yourselves with Christ. There is neither Jew nor Greek, slave nor free, male nor female, for you are all one in Christ Jesus. If you belong to Christ, then you are Abraham's seed, and heirs according to his promise."
Stegall leaves no stone unturned in her study of equality, covering related topics like servanthood, authority, reconciliation and exceptional women of the Bible, such as Deborah (a judge), Priscilla (who taught Apollos) and Miriam (who led the congregation in worship) – all women who participated in making decisions and receiving communication directly from God. The author also points to women's prominent role in Christianity: God using a woman to make Jesus incarnate; it was a woman who first preached that Jesus was the Christ; and women first announced Jesus' resurrection. Stegall also examines word usage in interpreting Scripture and its role in defining women and the church. In the end, her wish is for women to find their place and not keep silent in church, voicing their faith and love for Christ through worship, teaching, discussion and ministry.
Author Kathryn Stegall, a lifelong member of the Reformed Presbyterian Church of North America, has served on its Board of Education and Publication, Board of Directors for the RP Home for the Aged. She worked with her husband, Ron, as a missionary teacher and church planter on Cyprus. The Geneva College graduate also studied at The Reformed Presbyterian Theological Seminary and taught secondary sciences and the Bible. Stegall has written "Reformanda," published by the World Alliance of Reformed Churches and written articles for "The Priscilla Papers" and "Cornerstones."
For additional information, please visit http://www.fullrightsofsons.com.
The Full Rights of Sons
Kathryn Stegall
Dog Ear Publishing
ISBN: 978-1-4575-2000-6 348 pages $14.99 US
Available at Ingram, Amazon.com, Barnes & Noble and fine bookstores everywhere.
About Dog Ear Publishing, LLC
Dog Ear Publishing offers completely customized self-publishing services for independent authors. We provide cost-effective, fast, and highly profitable services to publish and distribute independently published books. Our book publishing and distribution services reach worldwide. Dog Ear authors retain all rights and complete creative control throughout the entire self-publishing process. Self-publishing services are available globally at http://www.dogearpublishing.net and from our offices in Indianapolis.
Dog Ear Publishing – self-publishing that actually makes sense.