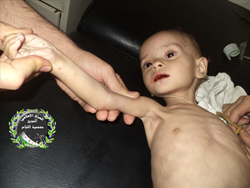 Washington, DC (PRWEB) September 25, 2013
SEO is deeply concerned at reports from humanitarian activists and aid organizations both inside Syria and in refugee camps warning of dire consequences including malnutrition, starvation, and mass death if lack of sufficient food is not addressed on a large scale.
Over 4 million children are at risk of malnutrition, according to a recent report from Save the Children. Food shortages have reached crisis levels, with food prices rising, and the agricultural sector in Syria decimated.
SEE: Going Hungry in Syria http://www.trust.org/item/20130925084722-zef6g/?source=hptop Published by Reuters Sept 24 2013
According to an Al-Jazeera report published Sept 25 2013 horrifying images of skeletal children have been emerging from the town of Mouadamiya, which has been under heavy siege and receives little access to humanitarian aid. Activists posted disturbing footage on YouTube of Rana Obeid, a 1 year old suffering from severe malnutrition. Her belly was clearly distended, and her ribcage protruding. Obeid died on Tuesday. She was the 6th child to die from malnutrition in the Mouadamiya area alone, according to physicians and news reports.
SEE: Hunger, Violence Threatens Syria http://america.aljazeera.com/articles/2013/9/25/hunger-as-well-asviolencethreatenssyrians.html
In another alarming development, according to the Al-Jazeera report, the World Food Program (WFP) has threatened to drop hundreds of thousands of Syrian refugees in Lebanon from its food voucher program due to lack of funding.
"Syria is on the brink of mass famine. This is a urgent situation that demands the attention of the international community," said SEO Chairman Mazen Hasan. "We ask that the international community allocate funds and resources to help Syrians obtain access to basic food resources. No child and no human in this day and age should have to die from malnutrition," said Hasan. We also demand that all parties in Syria allow free and unhindered access to humanitarian aid in affected areas immediately, as denying access to humanitarian aid is a crime under international law. "
Syrian Expatriates Organization is a charitable organization comprised of Syrians and their supporters that aims to strengthen Syrian civil society through short term relief, assistance, and long term capacity building projects.