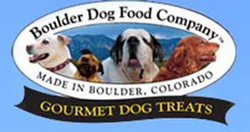 This is a great cause to be part of and we are grateful to be able to contribute along with our customers.
Boulder, Colorado (PRWEB) September 27, 2013
Representatives of Boulder Dog Food Company LLC., announced today that it will host a fundraiser for the remainder of September through Oct. 18 to solicit donations for the Humane Society of Boulder Valley and the Longmont Humane Society.
"These humane societies are experiencing an increased need for donations to assist animals of flood evacuees," said Ed Withers, co-owner of Boulder Dog Food Company LLC, a company that manufactures high quality dog and cat treats using human grade meat and all-natural ingredients. "Many cats, dogs and small mammals have been rescued during this stressful period."
Withers explained that 15 percent of the total value on all orders received on the company's website with the designation "Boulder County Flood Relief" will be given as fundraiser donations.
"We invite all our customers to join with us in raising funds for these two shelters," Withers urged, before adding, "Funds will be divided equally and donated promptly to them."
The company spokesperson noted that those who place an order and would like a portion of their order to go toward the fundraiser should insert the words: "Boulder County Flood Relief" in the "special instructions or comments" section during checkout on its website. Simply go to http://www.boulderdogfoodcompany.com.
"This is a great cause to be part of and we are grateful to be able to contribute along with our customers" Withers said of the company, which has a five-star review rating on Amazon.com.
"This fundraising effort is extra special since our business is based in Boulder Co which has been a refuge for many of the more remote mountain towns during the crisis," said Withers. He added that, "Boulder county is a community which treasures its animals and many people were simply unwilling to leave them behind during the evacuation. There were reports of helicopters rescuing more than 800 dogs, cats and small mammals. Zip lines were used to help both people and animals cross-raging rivers. We're doing what we can to help ensure that animals at these shelters are well taken care of with the use of much needed funds."
For more information, please visit: boulderdogfoodcompany.com/blog/ and boulderdogfoodcompany.com/all-natural-ingredients/.
###
About Boulder Dog Food Company LLC
The business was started in Boulder, Colorado in 2004. Initially the company made a high quality dog food with bison as the primary protein ingredient, but then gradually transitioned into making 100% meat treats. Today the bakery in Boulder produces both canine and feline treats made from a variety of all meat or all fish ingredients. Bison products, made from bison meat as well as organs such as liver, heart and lung, continue to be among the most popular products. Bison is found to be a good meat choice for animals suffering from food allergies or intolerances since it is thought to be less likely to produce an immune response. Equally important, the bison come from free ranging herds in the western states. The meat and organs from grass-fed animals contain significant amounts of healthier unsaturated fatty acids, vitamin E and iron. Its high protein, low fat profile is a more nutritionally healthy meat choice for both humans as well as our canine and feline companions. And grass-fed ranching is not only good for the animals, it's good for the environment.
So drop by boulderdogfoodcompany.com and be sure to check out the monthly special offers too.
Contact Details:
Ed Withers
303-449-2540
Source: Boulder Dog Food Company LLC