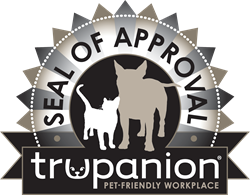 "Our team feels having their furry companions by their side during the work day contributes to a very productive and happy environment."
Seattle, WA (PRWEB) September 25, 2013
Trupanion, a leading pet insurance provider in the United States and Canada, today announced Tito's Handmade Vodka as the winner of its first annual Pet-Friendly Workplace Seal of Approval contest. Tito's was selected from five finalists because of its commitment to creating a pet-friendly environment, including an outdoor pet play area, and its commitment to animal rescue.
Tito's Handmade Vodka, based in Austin, Texas, has been a pet-friendly company since its inception. Employees are encouraged to bring pets into the office, including dogs and even rabbits. There is an outside doggie play area located next to the distillery and offices where animals are allowed to roam free.
"Our team feels having their furry companions by their side during the work day contributes to a very productive and happy environment," said Beth Bellanti at Tito's Handmade Vodka. "Tito built his distillery with a very beloved dog by his side 16 years ago and that culture of having dogs around us at Tito's Handmade Vodka and helping other dogs has always been a comfort."
Tito's Handmade Vodka will receive a grand prize of $5,000 in addition to the Trupanion Pet-Friendly Workplace Seal of Approval and goody bags including toys, treats and resources for each office pet. Bellanti says the company plans to donate the prize money to animal rescues and charity organizations like Emancipet, a spay/neuter program they currently support through their upcoming website, VodkaForDogPeople.com.
Not only has Tito's successfully integrated pets in the workplace, the company's employees serve as fosters and are encouraged to rescue animals. To date, Tito and his team have rescued 30 homeless dogs and cats that have wandered onto the grounds of the distillery. The company also donates its handmade vodka to fundraising efforts for rescues and shelters and advocates for progressive spay/neuter public policy.
"Pet-friendly policies are deeply ingrained in the culture at Tito's," said Darryl Rawlings, Trupanion Founder and CEO. "Their commitment to pet rescue and advocacy is admirable and their example of creating a happy and healthy work environment for people and their pets is helping to define what a pet-friendly workplace can be."
Trupanion launched its first annual Pet-Friendly Workplace Seal of Approval contest earlier this year. Five finalists were selected including the University of Minnesota College of Veterinary Medicine, Pet Food Express, G5 and BISSELL Homecare, Inc.
Trupanion has been a pet-friendly workplace since it was founded in 1998. Over the years, the company experimented with a variety of pet policies, learned from its experience, and developed a program that has led to the seamless integration of human, canine, and feline coworkers, becoming a true leader in the space.
About Trupanion®
Trupanion is the second-largest pet insurance provider in North America* and an industry leader, offering cat and dog insurance in the United States and Canada. Trupanion's policy includes coverage of hereditary and congenital conditions with no payout limits per incident, per year, or over the lifetime of the pet. Trupanion's corporate culture includes an office with 250 employees and 90 dogs and cats (a 3:1 human to pet ratio). Trupanion Inc. owns American Pet Insurance Company (APIC). APIC, which has earned a Financial Stability Rating® of A, Exceptional, from Demotech, Inc. underwrites Trupanion. For more information call 800-569-7913 or visit Trupanion.com. You can also follow Trupanion on Twitter or Facebook.
*North American Pet Health Insurance Industry Report, 2012
About Tito's Handmade Vodka
Founded in 1997, Bert "Tito" Beveridge, a one-time geophysicist, obtained the first legal permit to distill in Texas and created Tito's Handmade Vodka. Tito distills his corn-based vodka 6 times in old-fashioned pot stills, the first of which he built himself. Tito's Handmade Vodka has gone on to win the prestigious Double Gold Unanimous Judge's Choice at the San Francisco World Spirits Competition, besting 72 of the world's premier vodka brands. Tito's continues to receive critical acclaim for its impeccably pure taste, affordability, and brand growth.
Tito's Handmade Vodka is distilled and bottled by Fifth Generation Inc. in Austin, Texas, and is available in Liter, 1.75L, 750mL, 375mL, 200mL, and 50mL sizes. For more information, visit http://www.titosvodka.com.
###
Media Contact
Britta Gidican: Manager, Public & Media Relations
Trupanion
206.607.1878
Britta.Gidican(at)trupanion(dot)com