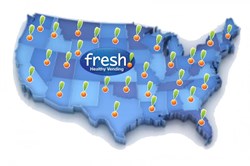 (PRWEB) September 25, 2013
The largest healthy vending company in the world, Fresh Healthy Vending International, Inc. (OTC Markets: VEND) continues progressing with its $1 million initiative. The company provides complimentary healthy vending machines to qualified locations seeking to expand their vending machine revenue and offer healthy products. Sites such as white-collar businesses, schools and community centers are encouraged to apply for a grant that could secure one or more complimentary vending machines. "Even if a site has an existing vending machine contract, they can still qualify," said Alex Kennedy, CEO of FreshAndHealthy.org. "We look at other factors, such as foot traffic, number of building occupants, and the resources of the machine operator when determining how many machines we are able to offer a given location."
The program is unique in the healthy vending machine industry; similar vending suppliers rarely provide complimentary machines to locations. Some actually require locations to stock the machines with product in addition to paying a leasing fee. "Most locations want a worry-free, hands-free, cost-free machine, and that's what FreshAndHealthy.org offers," Kennedy said. "From the location's perspective, our machines are a better option because they are stocked and maintained by uniformed Fresh Healthy Vending Ambassadors, and their organization is able to keep the commission." Monthly commissions paid out to locations are generous even at the baseline rate, and some commissions can be negotiated higher.
Another advantage of the Fresh Healthy Vending opportunity is the online reporting system that notifies machine operators when a machine requires re-stocking or servicing. This remote monitoring system allows a machine operator to see the sales from the machines at any given time. "Operators will know well in advance which products are needed, and come prepared when it is time to re-stock them," Kennedy said. Operators visit their locations for re-stocking frequently, ensuring that the sites are kept stocked with product.
As for menus, they are custom designed for each type of location. When a location signs up for the program, the representative can specify any needs or restrictions for products in the machine: kosher, gluten-free, nut-free, etc. The products department at Fresh Healthy Vending specializes in creating menus for the type of location; because of that, the company has learned through experience what sells well at each type of location.
As time goes on, sites can request changes to the menu. With the ability to see ongoing sales figures, machine operators are prepared to change products out when necessary. If a product isn't moving, they can try something new. Healthy Vending Machine operators provide locations with a monthly record of sales, along with the commission check. "They do what it takes to make sure every machine is successful," Kennedy said. "That's why we're willing to provide free machines to qualifying locations; the program is a win-win for everyone."
About FreshandHealthy.org
FreshandHealthy.org is the only dedicated resource available to locations around the world seeking a healthy vending program. The program offers financial grants and incentives to locations that qualify. Visit http://www.freshandhealthy.org to learn more.
About Fresh Healthy Vending
Fresh Healthy Vending International, Inc. is the largest healthy vending company in the world. Fresh Healthy Vending International, Inc. has appointed over 200 franchisees. Fresh Healthy Vending International, Inc. is dedicated to combating obesity by providing nutritious foods from healthy vending machines.