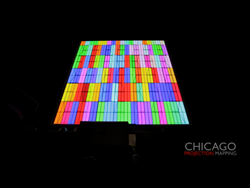 "This is so beyond eye-catching - it leaves a huge impression on viewers." - J Matthew Nix, Project Lead for Chicago Projection Mapping
Chicago, IL (PRWEB) September 26, 2013
Chicago Projection Mapping, a Chicagoland-based content and projection company, announced today the availability of permanent installations for commercial organizations and private collectors. Spurred by recent interest in long-term displays, CPM is offering its exceptional mapping, traditionally utilized in live events and product launches, available for extended use starting today. The new indoor/outdoor installations will be available on a custom-made basis, on a scale and implementation ranging from small art pieces, to window displays, to skyscraper-sized surfaces.
Designed for flexibility in placement and location, 3D projection mapping systems can be applied on any scale - all systems are designed by CPM's industry-leading mapping team, and each display is entirely one-of-a-kind. CPM installations include remarkable content, stunning visuals, and tailor-made fabrication for projection hardware and mapping surfaces. Displays also feature first-to-market wireless content updates for businesses and brands, as well as optional iPad and touch-free interactive capabilities.
"The ability to create projection mapping on a consistent basis can transform an environment," said J Matthew Nix, project lead at Chicago Projection Mapping "This is so beyond eye-catching - it leaves a huge impression on viewers."
Permanent projection mapping offers great potential for business applications. As integration with branding remains a CPM priority, personalized unification with advertising and promotional content is available. CPM offers both turn-key and operator-controlled systems, specifically for interior architecture, corporate and municipal art, building and casino exteriors, business displays, and art installations.
Chicago Projection Mapping's permanent installations are available both in the Chicagoland region and across the United States. For inquiries regarding long-term displays, or for a free consultation, please email info(at)ChicagoProjectionMapping(dot)com.
About Chicago Projection Mapping:
Based in Chicago, IL, Chicago Projection Mapping is a full service content creation and 3D/4D projection mapping company, serving the corporate, event, meeting, and convention sectors. For more information, please visit http://www.ChicagoProjectionMapping.com, or call 630-620-0000.