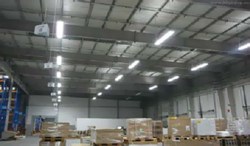 'As part of our strategy we constantly seek to bring to market new LED innovations that solve real world market needs,' -LED Canada Solutions Specialist .
(PRWEB) September 30, 2013
LED Canada introducing new Canpack(TM) SR22 high bay bar light. With improved light distribution and widened beam angle, there is reduced shadowing and more even light spread compared to traditional single point HID or LED high bays. Heat dissipation has been substantially improved allowing for more lumen output and extended LED operating life. An IP65 rating allows the SR22 high bay to be used in wet and dusty environments. But perhaps the biggest technological advancement is the ability to get as much as 25% more lumen per watt then not only traditional high bays but also T5 racks.
From warehouses to airports to larger office environments the SR22 High bay has an attractive, contemporary design that fit into both industrial and commercial environments.
Now in final Canadian certification testing, look for the new Canpack SR22 High bay to be out soon, or contact us directly for pre-ordering.
Speak to one of LED Canada's SSL (Solid State Lighting) Solution Experts today, and get LED working for you.