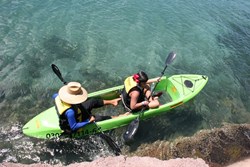 Our new clear-bottom kayaks are something unique we can offer our guests to help make their adventures even more memorable. - Owen Perry, Villa Group
Islands of Loreto, Baja, Mexico (PRWEB) September 26, 2013
Villa del Palmar at the Islands of Loreto, the newest member of Villa Group Resorts, is giving guests a window into the goings-on under the sea with its newest guest activity: clear-bottom Caribe kayak excursions.
Guests can take one of six new clear-bottom kayaks for a spin around Danzante Bay, while enjoying an up-close view of what's happening under the indigo waters of the Sea of Cortez, which legendary explorer Jacques Cousteau aptly named "The Aquarium of the World" because it serves as home to thousands of reef-dwelling and migratory fish, soft corals, mollusks, mother-of-pearl, starfish, sea urchins, whales, dolphins, sea lions and other marine life. With visibility down more than 40 feet – and sometimes as deep as 100 feet – it's now possible to see much of this rich bounty without leaving the kayak.
This lush underwater playground is a United Nation's World Heritage Site, which has been protected as a National Marine Park since June 2000, offering adventurers a world-class view of pufferfish, stingray, coral and more, while kayaking around the majestic "front-yard" of Villa del Palmar at the Islands of Loreto.
"Our new clear-bottom kayaks are something unique we can offer our guests to help make their adventures at Villa del Palmar at the Islands of Loreto even more memorable," said Owen Perry, owner and president, Villa Group.
Experience kayaking along Ensenada Blanca Beach, which is touted as one of the top places for kayaking in the world because of its tranquil and calm waters. Drink in the peaceful beauty of the natural landscape surrounding you during the optimal morning and early afternoon hours as you connect with nature and glide along until you reach Dolphin Point and Danzante Island.
Guests of Villa del Palmar at the Islands of Loreto can rent the clear-bottom kayaks for $20 USD per hour (or $30 USD for a half day or $50 USD for a full day), every day from 9:30 a.m. to 4:30 p.m. To rent the equipment, please see the resort's Activities Center near Villa del Palmar at the Islands of Loreto's Casa Mía Restaurant. The rental includes a quick tutorial of kayaking basics, one hour of kayaking, paddles and use of a life vest.
With more than 100 miles of coastline, 300 sunny days a year and year-round surface temperatures averaging in the 80s, the 800-square-mile Loreto National Marine Park is an adventure-seeker's paradise. More information on these new offerings can be found at Villa del Palmar at the Islands of Loreto's activities website, http://www.myloretoexperience.com.
The Islands of Loreto, located on the east coast of the Baja California Peninsula on the Sea of Cortez, is known for its quiet beaches, scenic vistas, rich history and astounding natural habitats. The region caters to adventurous travelers looking to explore the many outdoor opportunities in addition to scuba diving, including snorkeling, hiking, and mountain biking, as well as people looking for a getaway where they can enjoy the beauty and authentic culture of the region without the commotion of heavily-trafficked Mexican destinations. The destination is fast becoming an alternative for travelers looking for a slower pace with all the options and amenities they have come to expect from a vacation in Mexico.
For more information about Villa del Palmar, or to book, contact your preferred travel professional, visit http://www.villadelpalmarloreto.com/ or call 866.209.0726 from the U.S. or 855.440.5590 from Canada.
About Villa Del Palmar at the Islands of Loreto—Baja's First Million Star Resort
Villa del Palmar at The Islands of Loreto is a self-contained destination resort on the Sea of Cortez, off the eastern coast of the Baja peninsula overlooking Danzante Island (one of five in the region). It features 181 new, spacious, beautifully appointed Deluxe Ocean View, one, two and three-bedroom suites with balcony or terrace, stunning ocean views, mountain views, outstanding restaurants, an attentive English-speaking staff, five swimming pools, a 39,000-square-foot spa, two tennis courts, beautiful beaches and a mild and warm climate year-round. The New York Times lists Loreto in its Top Ten Places to go in 2011. The travel article featuring The Islands of Loreto, Baja California South, Mexico ranked first among readers.
Guests can enjoy scuba and snorkeling tours in the protected Marine Park within the five prominent Loreto Islands, horseback riding, swimming, world-class fishing (catch a Dorado and bring it home to have a Villa del Palmar at The Islands of Loreto chef prepare it for you), paddle boarding, kayaking, whale watching and mountain biking. With complimentary shuttle service, guests can explore the historic town at the Islands of Loreto and visit the 1697 mission that made the town famous. The area is also known for its wildlife, including the 900 species of fish off the coast and in an area that has been declared a World Heritage Site. Hotel perks include a spa and fitness center, massages, salsa dance lessons and movie nights for children.