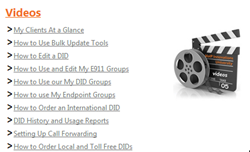 Pittsburgh, Pa (PRWEB) September 26, 2013
Customers at VoIP Innovations are soon going to have access to the newly designed exclusive VoIP Innovations University (VIU) platform. On October 1 customer will be able to see VIU in the Help tab in their BackOffice, Titanium III.
There is a great deal of information out there for those who utilize VoIP services. Not only do customers have to be aware of general industry related topics, there is specific VoIP Innovations information that needs to be available at the customers' finger tips. Creating a platform such as VIU will gather all of the material necessary to empower a customer to be an informed decision maker, and displays it in an easy to navigate content hub.
VIU will feature four main sections: White Papers, Videos, Wiki Articles and Press Releases. If a customer opens one of these sections, they'll find a breakdown of information based on different categories. For example, the Videos section has a category for DIDs, E911, and General Information. Not only has VoIP Innovations added the category feature to help customers find content, but they've added a search bar so customers can search for a specific term rather than looking through all categories to find what they need.
The next step for VoIP Innovations and VIU is to further expand its capabilities. They plan to integrate tracking tools so that customers can be rewarded with promotional items or account credits for their participation. Additional industry resources will also be incorporated to VIU as the platform grows. VoIP Innovations has recognized that having an aggregation bases business model has been successful for their company, and now they're using that same concept to help customers stay informed and succeed in the VoIP industry.
VoIP Innovations is an Inc. 5000 company that specializes in providing the largest DID and termination VoIP footprints in North America. Their network includes over 500,000 DIDs in stock in over 8,500 rate centers in the US and Canada. Recently, VoIP Innovations expanded their footprint to include DIDs in over 60 countries and now offers A-Z termination. VoIP Innovations is owned by ABG Capital and is based in Pittsburgh, PA. To learn more, please visit the VoIP Innovations Blog.