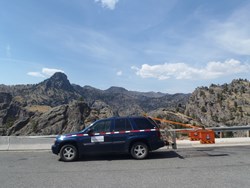 Arlington, MA (PRWEB) September 26, 2013
Infrasense, Inc., a national leader in detecting subsurface conditions, has just completed Ground Penetrating Radar (GPR) data collection for several projects across the northern tier of the United States. These projects included deck evaluations throughout Michigan, Montana, and Wisconsin, and pavement thickness surveys in Minnesota, North Dakota, and Idaho. Infrasense performed the data collection using high-speed Ground Penetrating Radar (GPR), and supplemented the GPR data with high-speed Infrared Thermography (IR) on select bridge decks. GPR and Infrared deck testing provided a condition assessment of the reinforced concrete bridge decks without requiring any cores or exposed rebar, and with minimal disruption to traffic flow. GPR pavement thickness surveys will provide comprehensive pavement structure information to supplement Falling Weight Deflectometer (FWD) testing used to predict pavement condition and lifespan.
Infrasense's unique vehicle-mounted high-speed GPR system enabled Infrasense to collect a huge amount of data quickly and efficiently. For example, an Infrasense field team collected data on over 1500 miles of pavement across North Dakota in less than 2 weeks! In a similar fashion, Infrasense was able to scan 120 bridge decks scattered throughout Montana, also in less than 2 weeks. By utilizing this mobile GPR system, Infrasense is able to quickly provide clients with important planning information to help them maximize their construction season and plan more efficiently.
Ground Penetrating Radar data is collected on bridge decks to identify corrosion induced delamination, and to estimate rebar depth. Decks in good condition consist of strong and uniform radar reflections from the rebar, whereas weak and inconsistent reflections indicate rebar-level bridge deck deterioration. GPR data is collected on pavements in order to determine the thickness of the bound material, necessary information in FWD analyses to calculate the remaining lifespan of an existing pavement. GPR data also reveals patterns and anomalies in pavement structure that often go unnoticed using traditional coring techniques.
Infrared Thermography data is collected to directly identify and locate delaminations in the concrete at the reinforcing steel. Infrared data is collected in a series of passes across each deck, with each pass covering a deck width of between 12 and 15 feet. For a typical interstate deck with 2 lanes and left and right shoulders, the survey is carried out in four passes – one in each lane and one in each shoulder. The survey produces a series of infrared images collected every foot of vehicle travel. During the survey, delaminations that heat unevenly due to thin voids at the reinforcing steel appear in the IR image as brighter "hotspots". Because many of these decks have overlays, the reinforcing can be 4-5 inches from the surface, and sounding is not always capable of detecting delamination at this depth.
About Infrasense, Inc.
Since 1987, Infrasense, Inc. has applied state-of-the-art technologies to address the most difficult challenges in subsurface scanning. Infrasense's engineers are able to nondestructively extract critical information from a diverse range of structures. In addition to providing ongoing subsurface evaluation services to clients across the country, the firm has also conducted numerous research programs to advance the field of subsurface detection and non-destructive evaluation.