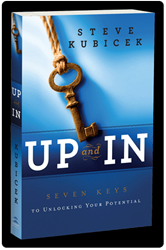 Burns, Tennessee (PRWEB) September 26, 2013
UP and IN: Seven Keys to Unlocking Your Potential by Steve Kubicek has won top honors in the Living Now Book Awards program. UP and IN was chosen as the Evergreen Gold Medalist in the Spiritual Leadership category of the Living Now Book Awards, a national book awards competition that honors the best books for better living.
An annual awards program now in its fifth year, the Living Now Book Awards celebrate the innovation and creativity of books that enhance quality of life. Moreover, the Living Now Book Awards highlight those books that change the world, one book at a time.
In the Living Now Book Awards, books are evaluated based on content, originality, design, and production quality with emphasis on innovation and creativity. The judging panel for the Living Now Book Awards is comprised of industry professionals representing the fields of editing, design, reviewing, bookselling and libraries.
Kubicek, a successful corporate executive, ordained deacon, and inspiring speaker, created UP and IN to show readers how to adopt the Up-and-In point of view—a powerful, transformative, uplifted, inspired mindset that turns down-and-out attitudes upside down. A powerful book with a simple premise, UP and IN presents a self-guided tour to unlocking potential. Drawing on a wellspring of personal experiences, insights from those who provided inspiration, as well as Biblical wisdom, Kubicek crafted UP and IN, an exceptional collection of 42 daily readings designed to inspire, encourage, challenge, renew, and uplift.
UP and IN (Summit Partners LLC) is available nationwide in a hardcover edition (ISBN: 978-0-9848426-0-5, $22.95, 320 pages), a trade paper edition (ISBN: 978-0-9848426-1-2, 320 pages, $19.95) and an eBook edition. UP and IN is distributed to the trade by Advocate Distribution Solutions, a Division of Send The Light Distribution. For more information, please visit: http://www.upandinbook.com.
Author, mentor, and speaker, Steve Kubicek, is a retired Fortune 500 sales executive who uses lessons of experience to inspire, motivate, and encourage. A native of Oklahoma who lived in Louisiana for nearly two decades, Steve Kubicek now resides near Nashville, Tennessee.
Steve Kubicek's debut novel, Visibly Struck, a work of historical fiction which is based on the true experiences of George Washington and his faith in the invisible hand of God, will be available in November.
Members of the news media wishing to request additional information are kindly asked to contact Maryglenn McCombs by phone: (615) 297-9875 or by email: maryglenn(at)maryglenn(dot)com