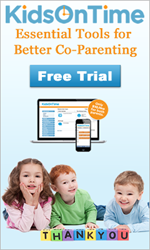 ... the most advanced co-parenting calendar on the market today.
Portland, ME (PRWEB) September 30, 2013
Kids On Time announces the release of their updated online calendar designed specifically for co-parenting.
KidsOnTime.com co-parenting tools are web-based applications for co-parents and blended families. Using the latest cloud computing technology, KidsOnTime.com aids in preventing, managing and containing conflict, directing each co-parent to focus on the issue at hand. Kids On Time co-parenting tools work equally well for collaborative couples and those involved in high-conflict disputes. It is a simple to use, powerful and comprehensive communications tool with undeniable value for parents as well their children.
The online calendar boasts three primary features:
Drag and drop appointment scheduling for single day, multi-day and recurring events. Google maps integration and a mobile check-in feature to notify a co-parent when the kids will and have been picked up.
The parenting time feature enables parents to input any type of shared custody schedule. The software is designed to allow for multiple differing schedules for each child if required.
The Flip-Flop is a unique way of trading previously scheduled days. When life throws a curve ball, and it is necessary to reschedule a visitation, either parent can electronically negotiate day(s) for day(s) without the stress of possible co-parent conflict.
According to Anne Sleeman, President of Kids on Time, "This calendar is one of, if not the most advanced co-parenting calendar on the market today. We urge people to try it for themselves. We have a limited time 30 day free trial available. If you are a co-parent, you will get more organized and communicate better using our tools than you will using any other method."
"As Founder of the Child-Centered Divorce Network I'm quite impressed with the new Kids On Time online co-parenting tools," says Rosalind Sedacca, Divorce & Parenting Coach. "It encourages forming a unified front on important topics such as discipline, rules, etc. They also offer many unique features including their Wellness Center where parents can share "The Good Stuff" to keep on the same page regarding sports,, fun excursions and recent achievements. Plus their video Series, "Simple tools and tips for reducing conflict," was produced in collaboration with Megan Hunter, Lecturer and co-founder of the High Conflict Institute. Best of all both parents (as well as therapists or legal advisors, if needed) can use the program for one monthly fee, making it more cost-effective than most anything else available online."
About Kids On Time, Inc.
Kids On Time is a pioneer in the co-parenting software market. The company's flagship product is a co-parenting application for divorced or separated couples and blended families. Kids On Time applications are used by couples and professionals working with divorced parents. Kids On Time connects co-parenting couples through the use of technology to help them communicate better and more effectively for the purpose of raising their children. Kids on time is the undisputed leader in providing affordable, user-friendly, technologically advanced co-parenting tools. Keeping in front of the technological trends allows Kids On Time to pioneer and create new niches in the market. Kids On Time is headquartered in Portland ME with an office in Phoenix, AZ and East Sussex, UK. For more information visit http://www.kidsontime.com and follow on Twitter @kidsontime.