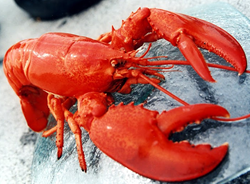 All live Maine lobsters are caught fresh in Maine, handled and selected with care by experienced lobstermen, and shipped overnight.
(PRWEB) September 26, 2013
At GetMaineLobster.com, one of the highest priorities of its team members is to educate seafood lovers on live Maine lobsters and its ability to ship them next-day fresh from the dock to anywhere within the continental United States. Many current customers and prospective customers are curious about what is available from the cold waters of Maine and how the seafood is shipped so efficiently.
GetMaineLobster.com has a variety of live Maine lobster options. Available sizes of live Maine lobsters for next-day delivery include one to 1.25 pounds, medium-size lobsters at 1.2 to 1.4 pounds and large live Maine lobsters weighing in at 1.4 to 1.75 pounds. For those looking for jumbo-size lobsters, GetMaineLobster.com also ships 1.8- to two-pound live Maine lobsters as well as two- to 2.5-pound lobsters. For those looking for even larger lobsters, contact a salesperson at GetMaineLobster.com to discuss availability and pricing.
All live Maine lobsters are caught fresh in Maine, handled and selected with care by experienced lobstermen, and shipped overnight. The lobstermen select only the healthiest lobsters and 25 percent of the daily catch is returned to the Maine waters in order to maintain the sustainability of the Maine lobster industry.
The lobsters are then carefully packaged in specially insulated boxes along with frozen gel packs as well as instructions on how to handle, prepare and eat live Maine lobsters. As GetMaineLobster.com is dedicated to making efforts to remain environmentally responsible, the live Maine lobster delivery service sources sustainable and environmentally responsible packaging when shipping each order.
For those interested in other seafood options, GetMaineLobster.com offers a wide range of prepared seafood meals – including lobster bakes, surf-and-turf dinners, and lobster roll kits – in addition to a variety of appetizers, sides and desserts like Maine lobster stew, crab cakes or Maine whoopie pies.
To learn more about Get Maine Lobster, view current specials and browse seafood recipes, go to GetMaineLobster.com or call (866) 562-4817.
About GetMaineLobster.com
GetMaineLobster.com, a division of Black Point Seafood and Black Point Gourmet, hand-selects the finest Maine lobster, seafood and beef products for convenient distribution throughout the United States. Their passion is to make fresh, quality seafood readily available to customers across the country, which is why they buy from only the most trusted, well-established suppliers to ensure that they receive the finest products available.
GetMaineLobster.com was selected out of the more than four million small American businesses served by Chase bank to represent its new Platinum Business Checking product for its 2013 national advertising campaign.