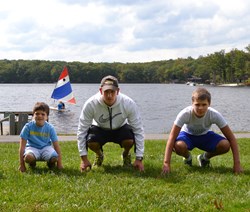 For over 55 years, families have retreated to Woodloch Pines Resort to vacation and bond. This is a unique opportunity to show children and adults that wellness is a state of mind and doesn't have to be unapproachable.
Hawley, PA (PRWEB) September 27, 2013
In recent years, the childhood obesity epidemic has reached historic heights and received equally deserved attention. Whether it be the first lady and her Let's Move! program or Mayor Bloomberg's anti-soda effort, it is commonly understood that big changes are needed. According to the Center for Disease Control, "childhood obesity has doubled in children and tripled in adolescents in the past thirty years." (1)
Understanding the need for action, Woodloch Pines has hit the ground running with its new Active Vacations Program intended to help bring education and awareness to family wellness. "For over 55 years, families have retreated to Woodloch Pines Resort to vacation and bond. This is a unique opportunity to show children and adults that wellness is a state of mind and doesn't have to be unapproachable," commented John Kiesendahl, owner and general manager of the all-inclusive family resort. "The Woodloch Pines philosophy has always been to provide activities and entertainment to keep families active from ages two to 92. We are here to show families that being active doesn't have to involve a treadmill," Kiesendahl continued.
The new Active Vacations Program will take a three-pronged approach to family wellness and awareness. Physical, emotional and nutritional components must be addressed when aiming to achieve integrated family wellness. Partnering with children's fitness expert Steve Ettinger, Woodloch Pines identified the physical activities that already exist at the award-winning resort. The family resort, known for its 18 hours of nonstop activities and entertainment, also sought to add to its exercise options and enlisted Ettinger to create a series of new activities that boost the metabolism. The activities were chosen in order to show families that fitness can be fun, inclusive of all family members and easy enough to continue at home.
The Woodloch Social Staff has outlined and highlighted all of the current activities that promote an active lifestyle and will showcase them in unique ways on the resort's website and activities calendar. For example, the more physically challenging activities will be marked with a dumbbell symbol, and most activities will have a calorie-burning estimate shown on the daily schedule as well as online. In addition to an expanded fitness program, Ettinger has created the "Woodloch Workout Map" a guide of DIY workouts that can be performed at specific locations across the property by adults and kids alike. Along with the Woodloch Workout Map, guests will have the opportunity to maximize their activity level during their stay through the Active Vacation Passport, a booklet that will require a certain number of stamps to show participation in some of the most active events. Those who complete their passport during their stay will be honored with a coveted Woodloch Medal.
The emotional component of family wellness ties back to a common denominator in the Woodloch philosophy, "keep it simple!" According to the Center for Economic and Policy Research, the May 2013 report called "The No-Vacation Nation Revisited" indicates that "the United States is the only advanced economy in the world that does not guarantee its workers paid vacation." (2) For example, both Canada and Japan mandate 10 vacation days a year to all employees, while most European nations take a cool 20 days a year.
Furthermore, an article in U.S. News shared insight from clinical psychologist Deborah Mulhern of Bethesda, Md., who "found that people who don't take enough time to relax may find it harder to relax in the future. Without time and opportunity to do this, the neural connections that produce feelings of calm and peacefulness become weaker, making it actually more difficult to shift into less-stressed modes," Mulhern said. "What neuroscience is showing is that we require down time in order for our bodies to go through the process of restoration. It is only when we are safe from external stresses that our bodies can relax enough to activate restoration."(3).
While not necessarily a bad thing in small amounts, refusal to take the time to allow your body and mind relax will ultimately lead to chronic stress, a snowballing mess of health issues that simply will not get better by themselves. Over time, chronic stress makes it harder to recover from illness due to lowered immunity. Individuals may have trouble sleeping as well as bouts of anxiety (4). A quality vacation breaks the stress cycle before things get too out of hand. Of course, Woodloch Pines is in the business of providing restful and meaningful vacations and is a strong advocate of making the most of the time away.
The third component of the Active Vacations Program is nutrition. Robert Kiesendahl, owner and Vice President of Food and Beverage at the family resort, has given the restaurant offerings an overhaul. The all-inclusive resort is well known for providing "plentiful" family-style meals. While the concept of keeping families together and giving them a reason to gather at each meal period has not changed, the ingredients have. Woodloch Pines has partnered with Greener Fields Together™ to create a program that provides local meats and produce and promotes sustainable food sourcing.
"Kids will consistently tell it like it is. They are the greatest critics when it comes to what they will and will not eat," explains Robert Kiesendahl. "While the theme of kid-favorite foods has remained, the ultimate goal was to make the traditional favorites as nutritious as possible." Vegetable-infused whole-grain pasta is now used in macaroni and cheese and pasta entrees. Apples and carrots are now choices instead of only french fries, and fresh fruit and Greek yogurt are new to the menu among others. In addition, adult entrees have evolved to include fresh fish with local vegetables, vegetarian and vegan options, as well as modified hearty classic recipes so that guests can eat leaner while still feeling like they are enjoying their favorite foods.
In addition to reducing negative symptoms associated with chronic stress, there are many physical and mental benefits to vacationing. A good escape allows you to find a way to quit those nagging bad habits. Placing yourself in an unfamiliar environment absent of "cues" and "rewards" makes it easier to break routines and develop all new patterns (5). So if you'd like to quit smoking or binge eating, vacation is a great place to start the transition.
The Active Vacations Program at Woodloch Pines is designed to be non-threatening while at the same time informative and educational. New resources have been added to the Woodloch website and collateral and will continue to be added as the program evolves. The Active Vacations Program will officially kick-off the weekend of November 1 - 3, 2013 to end National Family Health Month, when the new additions are made to the list of activities, and the website subsection launches. Steve Ettinger will be on hand at the family resort to lead several fitness adventures across the weekend along with a knowledge-sharing session and book signing.
All Active Vacation programming is included within the all-inclusive vacation price. Special November rates offer accommodations starting from $179 per person per night on the weekends with special children's rates.
Footnotes:
(1) Source: Center for Disease Control; cdc.gov/healthyyouth/obesity/facts.htm.
(2) Source: Center for Economic Policy Research; report "The No-Vacation Nation Revisited." By Rebecca Ray, Milla Sanes, and John Schmitt. Published, May 2013
(3) Source: usnews.com; article "The Benefits of Taking Time Off." By Patricia Quigley. August 11, 2011
(4) Whitbourne, Susan. "The importance of vacations to our physical and mental health | Psychology Today." Psychology Today: Health, Help, Happiness + Find a Therapist. N.p., 22 June 2010. Web. 20 May 2013. psychologytoday.com/blog/fulfillment-any-age/201006/the-importance-vacations-our-physical-and-mental-health.
(5) Glenn, Braunstein, . "Glenn D. Braunstein, M.D.: Want to Stay Healthy? Go Ahead and Take a Vacation." Breaking News and Opinion on The Huffington Post. N.p., 23 July 2012. Web. 20 May 2013. huffingtonpost.com/glenn-d-braunstein-md/taking-vacation_b_1688148.html.
About Woodloch Pines Resort:
Creating a magical experience for families since 1958, Woodloch Pines Resort's signature warm hospitality keeps guests returning year after year and offers a truly unique all-inclusive family vacation experience fitting for everyone's taste. An award-winning family resort, championship golf course and sister property featuring a luxury destination spa are just 95 scenic and convenient miles from New York City nestled in the Pocono Mountains Lake Region.
Contact:
Brooke Jennings Roe
Cell: 347.256.1598 or Bjennings(at)thelodgeatwoodloch(dot)com
Erica Filstein
Office: 570.685.8072 or Erica.filstein(at)woodloch(dot)com
Footnotes:
To reference the full list of sources used in this article, please visit Woodloch Resort's press page.