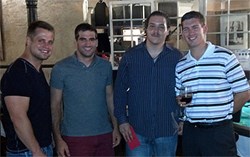 As promised, I brought in some very qualified dealers, poker chips and cards and emceed the tournament for Cunningham.
College Station, Texas (PRWEB) September 30, 2013
Almost exactly a year ago, the Texas Poker Store collaborated with Peter Madden of Madden's Casual Gourmet to support the March of Dimes Signature Chefs Auction by putting together a poker tournament prize package. On Tuesday evening, September 24, 2013, TPS was finally able to deliver the Poker Tournament Package prize.
Doss Cunningham, CEO of Woodbolt International, won the poker tournament prize at the March of Dimes Auction when he entered a sizable bid for the March of Dimes Signature Chefs Live Auction. The package he bid on was put together by Peter Madden, owner and Executive Chef of Madden's Casual Gourmet in downtown Bryan, Texas, and Jim Paris, owner and Chief Dealer of the Texas Poker Store. The package, which attracted some major bidding action, consisted of a Poker Tournament for 20 players and 20 guests to be hosted at Madden's Casual Gourmet. At the time, it was assumed that the tournament would take place soon afterwards.
However, life got incredibly busy for Cunningham, whose company, Woodbolt International of Bryan, Texas, was not only growing rapidly but achieving remarkable success as the makers of the best-selling Cellucor product line. Between that and the birth of his daughter in March, Cunningham was unable to claim his prize until now. With little time to spare, Cara Cook, Madden's General Manager, contacted the Texas Poker Store and Paris immediately jumped into action.
"We had a very short window to set up a poker tournament for twenty people, but with the help of everyone at Madden's, along with Ashley & Co., we were able to pull it together quickly," said Paris. "As promised, I brought in some very qualified dealers, poker chips and cards and emceed the tournament for Cunningham and his company," Paris continued. "And of course, Madden's provided a sumptuous buffet for everyone's enjoyment."
The evening began with Cunningham telling his staff and guests the significance of the evening in terms of the company's unprecedented success. He reminded them they were there to have fun, but to remember that this was about the March of Dimes, an organization that was near and dear to his and his wife's heart. Paris then announced 'Shuffle Up and Deal" and the tournament began.
After three highly enjoyable and competitive hours of Texas Hold 'Em, small prizes were awarded to every player, from gift certificates to spa days, from fine cigars to high-end bottles of wine. Reservations for an elegant wine dinner at Madden's Casual Gourmet went to third place winner, Julio Tejera and second place winner, Michael Jereb, and a watch donated by David Gardner's Jewelers, valued at $900 went to the grand prize winner, Steven Large, who raked in all the poker chips to end the tournament.
"Although we spend most of our time focusing on our online poker supply store, this was a great opportunity that we were thrilled to be part of," Paris said. ""Not only did it support the March of Dimes, but we got to spend the evening with some truly awesome people, all of whom enjoyed playing poker. For the Texas Poker Store, it doesn't get much better than that."
About the Texas Poker Store
The Texas Poker Store is a fully-stocked online poker store that offers 100 percent secured shopping. It features hundreds of poker supplies from poker cards, to the finest in luxury poker tables, folding poker tables and a variety of poker table tops. It carries poker chips and chip cases, poker novelties and collectibles, poker books and DVDs and the perfect gifts for any game room. You can find the Texas Poker Store's website at http://www.texaspokerstore.com, or visit their blog at http://www.texaspokerstoreblog.com Follow them on Twitter and keep up with them on FaceBook and you can even pin us on Pinterest.
Jim Paris
Chief Dealer
Texas Poker Store
979-595-7390