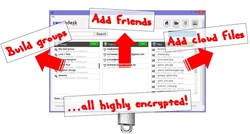 ...private data should mean that no one other than the intended recipients gets hold of it!
(PRWEB) September 26, 2013
There are many valid reasons for wanting to hide files and messages from snooping eyes, yet there is an inherent risk in transferring files over the internet to share with friends, family and colleagues.
It doesn't matter if the data being sent is sensitive for business reasons or personal reasons, whether it's a legal contract bound for a legal team or hot off the press photos of a newborn baby on their way to patient and eager grandparents-in-waiting - private data should mean that no one other than the intended recipients gets hold of it.
Unfortunately most of the file sharing solutions on the market today are overly complicated or far too expensive for the regular user to justify usage of. File sharing solutions boasting solid, easy to use functionality are generally lacking in security (offering no encryption, and certainly not 256-bit high strength encryption), whereas the security-conscious file exchange platforms offering encryption are too complex for the average user to grasp.
Seeing this gap in the market, the leading digital goods company Tradebit has just released an innovative free file-sharing tool called Swarmdesk that encrypts file data and messages and transmits them both using existing cloud infrastructures.
The Swarmdesk solution is free and available for download on Mac OS X and Windows platforms. The cutting edge file transfer tool allows its users to easily create groups, into which files and friends can be placed using a familiar drag and drop mechanism.
Each group has a unique password chosen by the group owner, and all files and messages sent to that group are encoded with both the password and an encryption algorithm based on the high security standard AES256. There are no limits to the number of groups, files and users that can be associated with each Swarmdesk account.
This means that - in the worst case scenario - if a single group is compromised (highly unlikely), the other groups associated with that owner remain fully intact and secure.
This unique combination of industry-grade 256-bit encryption and a highly-accessible interface designed for anyone to be able to pick up and use makes Swarmdesk a clear cut choice for anyone needing to send files securely in these modern times.