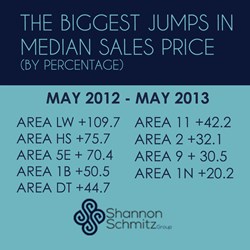 Our real estate is not speculative. With the number of people moving here we have a supply and demand issue which drives our current market.
Austin, Texas (PRWEB) September 26, 2013
Austin, Texas is the Live Music Capital of the World, the home of technological innovation, breakfast tacos, amazing festivals, food trucks, the Shannon Schmitz Group at Austin Portfolio Real Estate and, of course, "Keeping it Weird". It's no surprise that people are flocking to call the heart of Texas their home.
According to the Multiple Listing Service (MLS) report released by the Austin Board of REALTORS® (ABoR), August 2013 set a record for the most Austin-area home sales in the month of August. 3,082 single-family homes were sold last month, representing a 30 percent increase from August 2012 and double the sales volume of August 2010.
Most incredible, ABoR statistic show that area LW, which is the west side of Lake Travis, experienced a 109.7% increase in median sales price between May 2012 and May 2013. Areas HS (San Marcos) and 5E in East Austin, also increased by more than 70%. Areas 1B in Central Austin and Downtown increased between 40%-50% and even areas in North Austin, like Areas 2 and 1N have increased by at least 20%.
What is causing this growth? Money is cheap and Jumbo Loans are plenty. People are beginning to loosen their purse strings and are making housing purchases again. Austin's economy is still one of the strongest in Texas. With over 115 people moving to the Austin area daily, it reaffirms that our city is tops in Texas.
Want to know how much your home is worth? Use this free tool to find out now.
______________________________________________________________________
About The Shannon Schmitz Group at Austin Portfolio Real Estate / KW Luxury International:
The philosophy of the Shannon Schmitz Group is to provide their clients with service that is uniquely tailored to their needs – a concierge style approach to real estate.
The team consists of dedicated, professional, and hard-working Realtors® and their creative support staff that work together to provide the utmost in service to their clients for buying or selling real estate all over Austin and the surrounding Texas Hill Country Area, including Spanish Oaks, Bee Cave, Lakeway, Lake Travis, The Hills, West Lake Hills, and the famous Austin zip codes of 78703 and 78704.
For more information about Shannon T. Schmitz, Morgan Smith and Kimberly Montonati, visit http://www.shannonschmitzgroup.com.
Shannon T. Schmitz was also a nominee for the Austin Business Journal's 2012 Profiles in Power - Central Texas Women of Influence, which promotes Austin's most influential women.