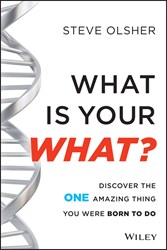 One person has the power to change the world, impact millions of lives, and leave a legacy for lifetimes to come. That person is . . . YOU!
Hoboken, NJ (PRWEB) September 26, 2013
In What Is Your WHAT?: Discover the One Amazing Thing You Were Born to Do, is a new book by Steve Olsher, the award-winning author and founder of The Reinvention Workshop. The book reveals Olsher's process for cultivating a life of purpose, conviction, and contribution by identifying and creating a plan of action for bringing the ONE thing each of us was born to do to fruition. It is a timely step-by-step guide that will propel readers towards achieving both peace and prosperity.
Featuring inspirational stories of trial, tribulation, and triumph, as well as examples of public figures such as Guy Kawasaki, Chris Brogan, Mari Smith, and Jack Canfield who sat down with Steve to discuss how they made their critical shift from pursuing commodity-driven opportunities to honoring their singular blueprint.
Readers of What is Your What? will learn how to:
•Become aware of their strengths and self-imposed limitations
•Journey through the Four Stages of Learning and shift from Unconscious Incompetence to Unconscious Competence
•Retrain the brain to experience life without the filter of preconceived notions
•Identify their WHAT—that is, the ONE thing they were born to do
•Forge a path and create a legacy
•Become who they were born to be
About Wiley
Wiley is a global provider of knowledge and knowledge-based solutions that improve outcomes in research, education, and professional practice. Our core businesses produce scientific, technical, medical, and scholarly journals, reference works, books, database services, and advertising; professional books, subscription products, certification and training services and online applications; and education content and services including integrated online teaching and learning resources for undergraduate and graduate students and lifelong learners. Wiley's global headquarters are located in Hoboken, New Jersey, with operations in the U.S., Europe, Asia, Canada, and Australia. The Company's website can be accessed at http://www.wiley.com.