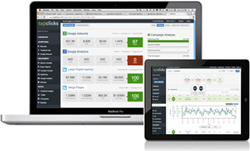 The great thing about this new integration is that clients can now see how people are interacting with their Twitter social presence.
Cupertino, CA (PRWEB) September 26, 2013
Today TapClicks, the digital presence company, announced that they have integrated their state-of-the-art marketing analytics platform with Twitter to bring social media reporting to digital marketing clients. Twitter joins numerous other leading digital marketing platforms such as Google AdWords, Facebook, FourSquare, and most major ad-serving platform and email-newsletter services.
The latest TapClicks integration makes it easy for digital agencies, enterprises and marketing organizations to see their Twitter campaign results together with analytics from banner ads, PPC, and Facebook Insights, to name a few. Now, digital marketers everywhere can track all their digital campaigns, visualize the results in a unified dashboard, and focus their precious marketing budget on the stuff that works!
TapClicks extends a hearty "Thanks" to the amazing engineers who developed the Twitter API. With it, the crack development team at TapClicks have created a way for your agency clients to analyze Twitter marketing analytics along with analysis from other data flows.
The result is an intuitive, unified environment that makes it much easier to understand, track and report successes in online social marketing. "Millions of people are using Twitter, but it's been hard to understand how well businesses are engaging with them," said Babak Hedayati, CEO of TapClicks. "Clients using this new integration can see how people are interacting with their Twitter presence, combined with all the other threads of their digital marketing campaigns."
TapClicks recently unveiled its latest product, TapClicks Analytics Platform 3.0. The company has also recently announced that it has brought online more than 100,000 dashboards for small businesses tracking more than 250,000 digital-marketing campaigns.
Company Information:
Founded in 2009, TapClicks Inc. provides digital marketing solutions and performance analytics products for its clients. The company operates out of offices in Silicon Valley, Canada, India and Mexico.
For more information, please visit http://www.TapClicks.com. Alternatively you may contact TapClicks by phone at 408-725-2942 or email at info(at)TapClicks(dot)com.