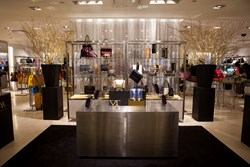 New York City, NY (PRWEB) September 26, 2013
Yliana Yepez, a New York-based luxury accessories designer, celebrated the launch of her signature handbag collection at Bloomingdale's on 59th Street with an evening soiree that also served to benefit the DiMenna Children's History Museum.
Some of the brightest names in New York's smart set headed to Bloomingdale's to fete their friend's collection launch as well as in support of a great organization. Joining the hosts Diana DiMenna and Yliana Yepez were Kelly Bensimon, Blair Clarke, Lise Evans, Nathalie Kaplan, Judy Licht, Elizabeth Loomis, Gillian Miniter, Natasha Schlesigner, Elaina Scotto, Kimberly Shariff, Rory Tahari, Jane Wagman, and Barbara Zweig.
The evening was the perfect way to kick off Yliana's debut at Bloomingdale's. In addition to 59th street and the SoHo location, YLIANA YEPEZ will be carried at six top Bloomingdale's doors around country including The Falls in Miami, South Coast Plaza in Orange County, and Glendale Galleria in Los Angeles.
About YLIANA YEPEZ
Launched in 2013 and based in New York City, YLIANA YEPEZ is a lifestyle brand of accessories for the modern and sophisticated woman, constantly on the go. Our clients have an emotional connection with the products, which become an extension of their personality. Our goal is to provide exclusive, essential and chic accessories that every woman desires.