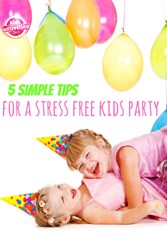 Plan ahead and be prepared.
Dallas, TX (PRWEB) September 30, 2013
Ready to host a kids party in the fall? Before heading out to the store check out the helpful tips for planning a stress-free kids party. Seasoned Moms are sharing their tips as well as a laundry list of cute football party ideas that do not explode the family budget.
Hosting a child's birthday party can feel overwhelming. There is so much to arrange that it can often feel like a huge production. Create a list by writing down the major party elements such as invitations, cake, food, decorations, games, and loot bag.
Find a time that suits the whole family including planning for an afternoon or evening party to allow the morning time for decorations and setting up. Before sending out the invitations already check with the favorite friend or cousin to ensure that they are available on that day. This can avoid major disappointment if he or she cannot make it.
Make the event a team effort. Ask kids to stuff loot bags, ask friends to help with set up or clean up or ask them to assist with games. Friends are happy to help and be involved during kids party.
Games or entertainment can be simple for younger kids. Letting them run around and play with bubble wands or planning some less structured games will keep them happy and occupied. Lastly, make anything that can be done before the party begins.
The football party ideas include cute and easy to duplicate football themed invitations, a variety of cakes that score a field goal, and party food recipes that turn into a fun filled kid's tailgate party. If the weather permits serve finger food buffet style on the tailgate of a truck. Inside food ideas include chips and dips, chili, nachos, and of course wings.
Football shaped bowls and a cute football field tablecloth will set off the food perfectly. Spray painting a football field of dreams in the backyard and letting the kids score a few friendly home runs will keep the kids occupied. Focus on the fun part instead of a competitive game of football.
Cool party favors include foam footballs. If used during the party games, they can even serve a great dual purpose.
For detailed instructions and to get additional fun party ideas, check out Kids Activities Blog this week. Let the kids have fun and keep the kids party safe and sane this fall.
About Kids Activities Blog
Kids Activities Blog is a website created by two moms (who collectively have 9 children), Rachel Miller and Holly Homer from June Cleaver Nirvana. It is their daily goal to inspire parents and teachers to play with kids. This interactive website publishes simple things to do with kids twice a day. Kids Activities Blog is a great tool for moms and teachers to find kid-friendly activities that create memories and sneak learning into the fun.