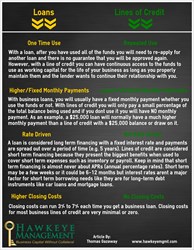 Blackwood, NJ (PRWEB) September 26, 2013
Debt financing can be confusing to many small business owners. A small business owner must decide whether to obtain a loan or line of credit, this article will help small business owners understand the difference between the two so the small business owner can choose the best option. The chart outlines the basic differences between loans and lines of credit.
Knowing whether a loan or line of credit is best depends on the owner's unique situation, needs, and how the owner plans to manage the debt. Now that the differences are understood a small business owner must ask the following questions to determine if a loan or line of credit is right for the business.
Does the business need financing for more than one business expense or for a specific (sole) purpose?
Chances are if financing is needed for more than one purpose, a line of credit can be a good fit. Lines of credit can work best when needed to cover the cost of multiple business expenses (e.g. payroll and inventory purchases) and when the use will be primarily for short term purposes. If financing is needed for one (large) purchase (e.g. equipment or machinery), a term or installment loan with a fixed number of payments will probably make more sense.
Can the business handle a monthly debt payment? If so, how much can the business afford to pay?
If the small business can handle a fixed monthly payment over a long period of time a loan can be a good fit. However, if the business can't handle ongoing monthly payments over a long time period, the owner may want to consider a line of credit since the monthly payment can vary (and is often smaller than a loan) depending on how frequently the line of credit is used. As the infographic says, loans will bring with them higher monthly payments than lines of credit.
To learn the other question a small business owner should be asking click here.
Hawkeye Management connects entrepreneurs and small business owners with up to $50,000-$150,000 or more in freely spendable business credit lines. Hawkeye Management understands the mechanics and realities of small business credit better than anyone. Hawkeye Management knows what works, what doesn't work, and how small businesses can get the credit it needs as quickly as possible.