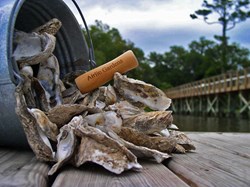 (PRWEB) September 26, 2013
Consider it an indication of cooler days along the Eastern Seaboard – a steam pot brimming with oysters over a fiery outdoor pit. A symphony of crackles gives way to the smell of saltwater and charred wood. A few minutes over an open flame, then the piping-hot bushel is dumped onto a picnic table. They're shucked, doused with Tabasco, spritzed with lemon and devoured. It's the Airlie Oyster Roast in North Carolina, and the event marks the unofficial start of fall for many folks in the South.
Slated for Oct.18, the Airlie Oyster Roast takes place at the heart of a somewhat historic stretch of land. Call it the Shell Highway, Shuck Trail or any other Mollusk-themed byway. Regardless of its moniker, the coastline running from Virginia down through the Carolinas serves as a fabled landmark in its own unique lore: The fall oyster harvest.
"People around here will see an extraordinary number of roasts, boils and chowder competitions popping up from now through February," said Janine Powell, development manager for Airlie Gardens in Wilmington, N.C. and coordinator of the annual Airlie Oyster Roast. "We like to consider our event the kickoff to the season. It's just what we do this time of year. Like the colorful change of foliage up north, the celebration of seafood marks our signature sign of winter's approach."
Since its inception more than a decade ago, the Airlie Oyster Roast has drawn thousands of visitors from all around the country. According to organizers, the event continues to grow each year as the result of increased demand for the shelled delicacies.
"No doubt, oysters are becoming associated with fall in our part of the world," Powell said. "In North Carolina, it's a tradition that put many of our waterfront communities on the map. Airlie's extremely proud to honor our heritage and draw attention to these wonderful, seasonal treasures."
Just north of the Tar Heel state, Virginia harvested more than 320,000 bushels last season alone, according to a report in the Richmond Times Dispatch. This made for the state's largest oyster harvest in a quarter of a century and accounted for $11.2 million dockside value.
Seeing the widespread appeal of the autumn crop and understanding the potential for related economic development, North Carolina has pursued a complete revival of its own oyster industry. In the past several years, the Coastal Federation and N.C. Division of Marine Fisheries have used economic recovery grant money to build some 60 acres of oyster reefs along the state's coast. It's a move in the right direction, according to Powell and other environmental pundits.
"Every year, excitement around our roast and the fall harvest grows more and more," Powell said. "I don't see how we couldn't ramp up efforts to reinvigorate the industry. From a purely nostalgic standpoint, there's something very festive about roasting oysters in the chilly night air… it's a memory so many of us around here cherish. It's an experience that takes us back to our roots."