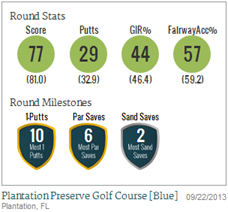 We are committed to continue to develop great social networking features.
Miami, FL (PRWEB) September 27, 2013
As an effort to increase even more the engagement of TheGrint members, the company spent a lot of time developing a new functionality that they call Milestones. On top of providing a free USGA Golf Handicap, TheGrint Golf Handicap Tracker efforts in connectivity is aimed to strengthen the members base.
The activity feed will automatically share round results as well as the milestones that the member achieved during a round. So other members can keep up to date with the golf activities and performance of their friends.
The functionality will also allow to share these posts on Facebook and Twitter, as well as commenting in each others rounds within TheGrint.
All posts will continue to show 4 basic stats: Score, Putts, GIR% and Fairway Accuracy%. And now it will also show the following round milestones:
1) Best Score
2) Best Putts
3) Best GIR%
4) Best Fairway Accuracy%
5) Most Pars per round
6) Most Birdies per round
7) Most 1-putts per round
8) Best Front 9 score
9) Best Back 9 score
10) Most Par Saves
11) Most Sand Saves
12) Hole in One
13) Eagle
14) Rounds Posted
"Increasing the social interaction among our members, will increase the strength of our member base. So we are committed to continue to develop great social networking features" - says Jose Torbay, one of the founders of TheGrint.
Currently, members of the compliant USGA golf handicap tracker have a lot of great social interaction features. However, starting October 1st, this new feature will become available to everyone and will increase even more the social interaction within the site and app.
Visit TheGrint.com to learn more.