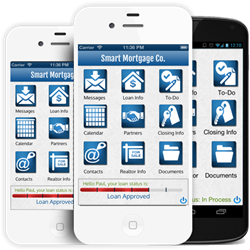 Boston, MA (PRWEB) September 27, 2013
Poli Mortgage Group Inc, headquartered in Norwood, MA, is pleased to announce the launch of The Poli Mortgage Mobile App. This state of the art mobile app was specifically engineered and designed to greatly enhance the experience for both their borrowers and realtor partners. The robust technology, which includes real time communication, secure data sharing and mobile capture technology, allows Poli Mortgage to dramatically improve productivity, reduce redundancy and minimize latency. The easy to use borrower and realtor interface engages all relevant parties from origination to closing. The built in business logic uses push notification technology to remind relevant parties of upcoming milestones and scheduled events.
Borrowers will benefit from the mobile app's ability to keep them fully engaged throughout the mortgage loan process. No longer will they worry about their loan status. All loan details are at the touch of a finger. Once they receive notification a loan document is updated, the borrower can view the actual document on the go.
Realtors will gain the advantage of real time loan updates; including immediate loan milestone notifications and/or document requests that will shorten the time from application to closing. Each realtor will have their own login to view the loan progress and documentation. Working with the Poli Mortgage Mobile App will improve the client/realtor relationship by keeping realtors in the know as their client's loan progresses through the system.
At the touch of a finger the borrower has the contact information and the ability to contact all of the key parties involved in the transaction. This includes; Borrower, listing Agent, Buyers Agent, Loan Officer, and Closing Attorney.
Lastly, the app appeals to potential new homeowners with specialized features and important new homebuyer educational materials. If one is in need of a quick rate quote, putting in a request is easy, and a Loan Officer will be notified immediately to offer a quick response to any and all questions and requests. New homebuyers will be able to manage and store open house and home shopping photos as well as documentation for future reference. "We developed our Mobile app to benefit both borrowers and their Realtor partners. A recent Campbell Survey and Inside Mortgage Finance study indicated that 65% of Real Estate Agents would be more willing to recommend a particular lender if they provided a mobile "app" to track the status of scheduled mortgage closings. The new Poli Mortgage App will allow us to connect with our clients and partners in a new way that will revolutionize our communication, utilizing the latest technology." VP of Marketing, Jim Schmidt noted. "In addition, the borrowers and partners that utilize our app will enjoy a more efficient and productive loan process right through to the closing. Poli Mortgage wanted to create something that would offer unique assistance to their customers and partners in this busy world; this mobile app will do just that." To download the app simply search for Poli Mortgage.
The app is now available to at either the iTunes App Store for iPhones or Google Play for Droid smart phones. Poli Mortgage Group Inc. contracted Easy Mortgage Apps LLC (EMALLC) to help bring their vision to reality. EMALLC is a Massachusetts based company which specializes in helping lending companies understand the actionable steps required to establish and implement a successful mobile strategy. For more information contact Michael Kelleher @ 888-987-6842 ext 700.