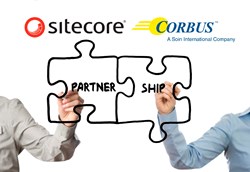 Cost reduction is about more than finding the right supplier or outsourcing work.
(PRWEB) September 26, 2013
Corbus, LLC, a global Information Technology and Sourcing and Procurement services provider, and Sitecore, a leading business application software developer, have partnered to deliver the best web experiences possible for users. Sitecore's software creates a platform for Corbus' web developers to build and host applications for global clients. This community allows multiple developers to have access to each application for greater transparency and shorter time to market. Both companies have worked and excelled in the global space, making this a best in class service for all.
"As a leading experience platform, Sitecore enables marketers to deliver unique, highly personalized experiences that drive real and measureable results across every engagement channel," said Gregory Symon, Senior Vice President of North American Client & Partner Engagement at Sitecore. "We are proud to partner with Corbus and bring our platform to their global client base so that even more marketers can leverage Sitecore and build customers for life."
"Sitecore's platform is a way for our clients to get away from working within silos," commented David P. Spencer, Global Head, Sales and Marketing. "Cost reduction is about more than finding the right supplier or outsourcing work. So many activities are duplicated across teams and departments that building a central repository to build and host applications allows these same groups to reuse or edit existing materials, saving both time and effort."
Corbus, LLC currently delivers trendsetting web application development services to global clients. Corbus and Sitecore working together gives clients a competitive edge in the creative and technology arena.
Corbus, LLC
Corbus, LLC, a global solutions provider founded in 1994, offers superior services combining years of experience, solid partnerships and adaptability. Corbus' solution offering includes Information Technology and Sourcing and Procurement services. Corbus creates technology-empowered solutions with industry leading processes and technologies that deliver business value to global clients through year-on-year savings, and are known for the ability to work in true partnership with clients to innovate and bring cost reduction along with enhanced product quality. With competitive positioning and complete transparency, Corbus and clients together achieve success. For more information, visit http://www.corbus.com.
Corbus is a global organization, headquartered in North America with presence in Europe and Asia Pacific markets. Corbus is a wholly owned subsidiary of Soin International LLC, a private multi-national holding company that provides strategic management, administrative systems, and financial support to a diverse array of worldwide subsidiaries and affiliates.
Sitecore
Sitecore is the global leader in customer experience management software. We deliver highly relevant content and personalized digital experiences that delight audiences, increase loyalty and drive revenue. With Sitecore, marketers can own the experience of every customer that engages with their brand across every channel. More than 3,000 of the world's leading brands –including American Express, Carnival Cruise Lines, easyJet, Heineken, LEGO, and Microsoft – trust Sitecore to help them deliver the meaningful interactions that win customers for life.