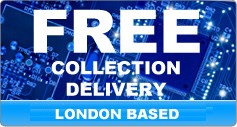 We all live extremely busy lives and it can be an inconvenience for customers to drop off and pick up their laptops. That's why I decided to provide a free collection and delivery service for all London post code areas
London, Greater London (PRWEB UK) 27 September 2013
Gadgets like laptops, netbooks and ultra-books are a part of everyday life. As such repair and maintenance of these gadgets are a vexed issue. But now there are other options available. One can order repairs online or by a phone call. Laptop Repair Workshop collects and delivers to their customers at the click of a mouse or a phone call. Their repair services are readily available through their website or via telephone. Unlike other repair companies they will organize the collection do the necessary repairs and return the laptop back. Managing director at the Laptop Repair Workshop says "It's like having a laptop repair service at your door step, there's no need to drive to the shop, wait for hours to get a repair man to service your order and spend days waiting for your laptop to be repaired. We all live extremely busy lives and it can be an inconvenience for customers to drop off and pick up their laptops. That's why I decided to provide a free collection and delivery service for all London post code areas."
Laptops used to be much more resilient pieces of equipment. But over the last five years, as the manufactures have been competing to make them thinner and lighter and as a result they've become prone to accidental damage. Basic warranties are just that: basic. They cover faults in the electronics, typically over a one-year period. Anything outside the realm of a malfunction can be deemed as "accidental damage", which gives the manufacturer an escape route to charge you a lot of money on a repair.
Accidental damage such as a cracked screen is not covered by the warranty. Using the manufacturer to carry out the repair can prove very costly. Office manager Hellen Grasso at Laptop Repair Workshop says "I typically receive emails which goes some like this: my laptop LCD screen is cracked, and now my PC vendor tells me this is an out-of-warranty repair and it will cost £400 to fix it. How much do you charge? Most customers are really happy to hear that the average cost of our screen repairs is £85."
Managing Director Ryan asserts "I strongly recommend against going to the manufacturer. You could easily end up waiting weeks while boxes are shipped back and forth, only to get low-quality work, have your hard drive reformatted for no reason, and be overcharged for the experience. The best option to replace your laptop screen without spending a fortune is the Laptop Repair Workshop". Their screen repair services come complete with a 90 day warranty on the hardware and labour. Most parts that are purchased during the repair process come with a one year manufacturer's warranty.
For customers who prefer a face to face experience they also provide a walk in service. Laptop Repair Workshop is located in Central London close to four major stations in the city, Barbican, Farringdon, Angel and Old Street, their address is 149 Goswell Road, London, EC1V 7ET. For more information call 020 3397 4232 or visit us at http://www.laptoprepairworkshop.co.uk