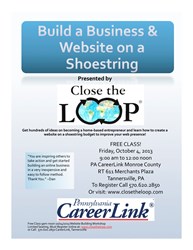 This workshop will inspire you to take action and get started building an online business without having to shell out thousands of dollars.
Kunkletown, PA (PRWEB) September 26, 2013
Pennsylvania's first Benefit Corporation, Close the Loop (CTL), will be hosting two innovative website building workshops, "Website Building on a Shoestring Budget," taking place on Friday, October 4th and Tuesday, October 8th, 2013.
"This workshop will inspire you to take action and get started building an online business without having to shell thousands of dollars," says CTL founder and CEO, Rita Lacey.
From planning and creating a new business to home-based manufacturing tips, this in-depth workshop will appeal to small business owners, individuals thinking about starting their own business and those who just want to learn more about the having an online presence.
Friday, October 4th
Where: Careerlink of Monroe County, 2937 Pennsylvania 611, Tannersville, PA 18372
Time: 9AM -12PM
Cost: Free
Tuesday, October 8th
Where: Spring Township Library, 78 Commerce Dr. Wyomissing, PA 19610
Time: 9am -12pm
Cost: Free
Registered guests will learn first-hand from business owner and founder, Rita Lacey, who launched her online business, Close the Loop, in 2000 to help support small US manufacturers who make high quality products out of waste materials to help build a better world for future generations. To date, the CTL online business has shipped over 7 million pounds of rubber mulch, 150,000+ pounds of plastic fencing, and continues to build the market for glass mulch and play sand made from post-consumer glass bottles. Lacey and her business is a prime example of the exponential possibilities that come from launching an online business.
Small business owners and individuals can register for either of these workshops at no cost. To register for the October 4th workshop, please visit http://www.closetheloop.com; to register for the October 8th workshop, please email spring(dot)twp(dot)library(at)gmail(dot)com
About Close the Loop:
With a dedication to helping preserve our environment, and a desire to help others who are also committed to this goal, CTL was established in October, 2000 after much research into who has been doing what in the recycled "green" world. They believe in helping environmentally conscious small businesses have a presence on the web, at no cost to them. Products are made in USA from state-of-the-art recycling of plastic scrap used as a non-wood alternative building material for the fencing and plastic lumber market including: recycled plastic fencing, posts, rails and vineyard poles. They also offer glass mulch, rubber mulch, rubber landscape timbers, rubber pavers and more, online at http://www.closetheloop.com.