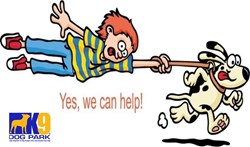 DiLoreto commented, "I am so excited to present this seminar series because it is evident from our survey responses that these are the issues our clients are having and I want to give them tools to correct unwanted behavior."
Escondido, California (PRWEB) September 30, 2013
In September, K9 Dog Park received survey responses from clients stating their dog behavior concerns. The survey outlined 18 various dog behavior issues and clients were asked to pick three to six that they were most interested in. Breaking down the results, the top eight items in order of concern are:
#1-Barking; #2-Aggression towards other dogs or people; #3-Jumping Up; #4-Excitability or Unruliness; #5-Inappropriate elimination; #6-Fears and phobias; #7-Separation anxiety; #8-Begging for food
To address these issues K9 Dog Park has created a series of training seminars. The seminar series "Why Does My Dog Act That Way?" will begin on Wednesday, October 16, 2013, from 6:30 PM – 8:30 PM and continue for a total of six sessions. K9 Dog Park Owner, Penny DiLoreto-ABCDT, CPDT - KA, CTDI, will present the series and address the behavior issues as follows:
October 16-Barking; October 23-Aggression, Fears and Phobias; November 6-Jumping up; November 13-Excitability & Unruliness; November 20-Inappropriate elimination; December 4-Separation Anxiety & Begging for food.
When asked about the seminar series, DiLoreto commented, "I am so excited to present this seminar series because it is evident from our survey responses that these are the issues our clients are having and I want to give them tools to correct unwanted behavior." When asked "Who should attend this seminar?" DiLoreto responded, "Dog owners, handlers, volunteers at humane society centers, groomers, trainers, children and adults or anyone who would like to learn dog behavior adjustment. Those who attend can expect to leave the seminar with: 1) an understanding of what is happening with a dog to create the unwanted behavior; 2) what the dog owner or handler can personally do to correct the behavior and; 3) to have any questions they have on the topic answered."
Anyone planning to attend the seminar should reserve their position in advance. The cost per session is $30.00 or all six sessions can be purchased for a discounted price of $150.00 per attendee. Enroll in this event.
Located in Escondido, K9 Dog Park is a leading dog training and grooming center in southern California. K9 Dog Park is a pioneer in advanced training techniques for dogs and their owners. The company pioneered snake avoidance training without the use of shock-collars; Behavior Adjustment Training (BAT) for reactive dogs; and "La Paws" training to help create a safe environment for infants, toddlers and the family dog. K9 Dog Park offers dog-training classes such as Therapy Dog, Service Dog, BAT, Problem Solving, Agility, Rally, AKC-STAR Puppy, AKC-Canine Good Citizen, Snake Avoidance, Trick and others in its indoor training facility.
At K9 Dog Park, dog grooming is a specialty where the staff of certified dog groomers and vet assistants who love to please dog owners and their dogs. K9 Dog Park specializes in all breeds of dogs in its 3,600 square foot facility located just off the CA-78 and Nordahl Road. Dog grooming is reasonably priced for all dogs and breeds from nail trimming to exotic Lion Cuts.