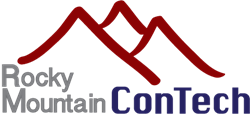 Payson, UT (PRWEB) September 26, 2013
Rocky Mountain ConTech announced last week the first Annual Construction Technology Forum, Elevating into 2014. ConTech designed this conference to give construction and technology experts a place to discuss new technology innovations and ways they can benefit the construction industry. Speakers from across the country will be presenting on a wide range of topics along with many opportunities for open forum discussions and networking.
"From risk management to time management, there are so many ways that technology can benefit the construction industry," Said Lynn Coffey, founder of ConTech. "In construction we are so set in our ways but there are many options out there, ways to improve safety on the job, increase ROI, manage projects and more. We wanted to create a forum that would present new innovative ideas to construction industry leaders in a way that is informational, beneficial and fun."
"We are very excited about our speaker line up for this event," stated Mike Merrill Co-founder of Rocky Mountain ConTech. "We have a wide range of topics being discussed and a diverse group of speakers. There is sure to be a session for everyone. "
Not only will the forum provide an environment to discuss innovative technologies designed for the construction industry but a portion of all proceeds will go to benefit the Columbus Community Center's Dignity Through Work program.
According to Lynn Coffey, "Tis dedicated to fostering knowledge of construction technologies through education, and community involvement. Sending a portion of the Construction Technology Forums proceeds to help the Columbus Community Center is just the first of many donations to our community we hope to make."
For more information on ConTech and the First Annual Construction Technology forum, including a link to sponsorships, registration and the speaker line up click on the following link.