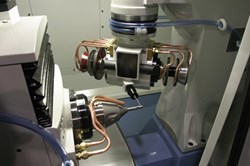 Since 2008, the Chinese government has been strategically controlling how much carbide is being mined and exported.
Rochester, NY (PRWEB) September 26, 2013
Five Star Tool is currently able to increase the life expectancy of standard Carbide Cutting Tools through their recycling Edgemaster re-sharpening program.
Today's cutting tool manufactures use Tungsten Carbide (APT) as the main material in their high grade Carbide Cutting Tools, as it can resist high temperatures and is extremely hard. Tungsten carbide (APT) is an extremely unique and invaluable metal to many industries. Its chemical properties are like no other, giving it one of the highest melting points of all elements. With the combination of cobalt, cemented carbide is powerful enough to withstand the most punishing applications. Simply put, it is irreplaceable in our industry. China currently accounts for nearly 90% of global tungsten supply. Over the years, the Chinese have sold Tungsten Carbide (APT) at a particularly low price. In doing so, they have eliminated foreign competition thus dominating the APT market. With a near monopoly on available tungsten deposits, the Chinese government decides how much tungsten is released and at what price it goes for. Since 2008, the Chinese government has been strategically controlling how much carbide is being mined and exported. This, along with an increased demand has caused ATP prices to increase dramatically.
Ken Lalonde, owner of Five Star Tool Company, predicts that tungsten carbide could be considered the next precious metal due to China's export licenses and quotas. This monopoly is being felt by today's metal manufacturing companies who are experiencing month over month price increases when purchasing new Carbide Cutting Tools.
Looking for alternatives cost saving measures is a concern for large consumers of Tungsten Carbide Cutting Tools especially Aerospace and Automotive companies.
The Five Star Tool Edgemaster re-sharpening program is now helping nationwide manufacturing businesses reduce their cutting tool costs. The process starts with getting manufacturers to recycle their used cutting tools. Then these tools go through a precision grinding process and receive special coatings which increase the life expectancy of 5 times over the manufacturer recommendations. All recycled tools are then laser etched and inspected to tight tolerances before being returned to their clients. Five Star Tool is now implementing this process in nationwide manufacturing companies who are looking to offset the rising costs of new tools.
Five Star Tool is again in the forefront with being the first in the area to put into use the Rush Machinery model FC-250EX Wheel Truing and Grinding Machine. The Rush FC-250EX is designed for the truing and dressing of flats, angles and radii on diamond and CBN single wheels and multiple wheel packs through the use of ExVision video software.
Rush Machines released new information about the ExVision software at the EMO Hannover2013 show in Hannover, Germany, September 16-21, 2013. EMO is the world's largest trade show for industrial equipment and productivity.
With the huge investment in this new equipment, Five Star Tool now has an advantage over its competitors while creating new opportunities for the company and business to Rochester, NY.