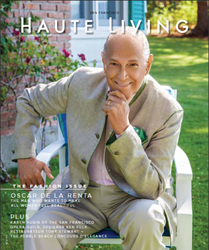 "I love to make beautiful clothes and that's about it. Every single day I say 'God, thank you for my life.' I come to work every day and it's like walking into a candy store." —Oscar de la Renta
San Francisco, Calif. (PRWEB) September 26, 2013
For Haute Living's Fashion Issue in San Francisco, the magazine sat down with designer legend Oscar de la Renta. He is a man who's reached the peak of his career, a man who can make his own rules. This is why he could cut his fashion week show attendance from 600 to 350.
"These mega-shows are out of hand. There are too many shows in New York," he says. "There are too many shows, too many designers, too many people. I do love to dress celebrities, but [at the show] I think they are a distraction to the ultimate goal, which is your presentation. The focus is not on the clothes; it detracts from the whole experience."
In this interview, it's clear that Mr. de la Renta is very sure of himself and his extraordinary talents. This is why he's in negotiations with disgraced designer John Galliano and why he's OK that Hilary Clinton didn't take his haircut advice.
Despite how strong-willed the Dominican-born designer is, he still, of course, can't say no to Anna Wintour. "I've had an extraordinary life. I love what I do and I hope that I will be able to do it for many more years to come," he says. "I love to make beautiful clothes and that's about it. Every single day I say 'God, thank you for my life. I come to work every day and it's like walking into a candy store."
Also in the issue, Get to know San Francisco Opera Guild president Karen Kubin; get into the mind of Ken Fulk—the man responsible for designing Sean Parker's wedding; and rev your engines for a special feature on the Pebble Beach Concourse d'Elegance.