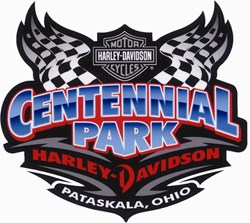 Columbus, OH (PRWEB) September 25, 2013
On Friday, October 4th at 4:00pm Centennial-Park Harley-Davidson in Pataskala will host platinum recording artist Rodney Atkins for an exclusive mini concert event. Atkins, famous for hits such as "If You're Going Through Hell" and "These are My People" is set to perform in "The Park's" new additional showroom.
Centennial-Park Harley-Davidson and A.D. Farrow Co. Harley-Davidson are offering customers five different ways to win tickets to the event. Signing up to demo a 2013 Harley-Davidson at one of the three central Ohio dealerships will earn customers the opportunity to win tickets as will requesting an application for credit on any new 2013 Harley-Davidson. Customers are also given a chance to win by simply updating their customer information with the company or listening for giveaways on Columbus local radio station WCOL 92.3 As a final way to gain entry to see Atkins customers who show up at Centennial-Park Harley-Davidson between 2:30 and 3:45 can register to win tickets last minute. "You can't buy them but you can win them!" stated Minister of Culture for the company, Doug Kamerer.
In addition to the concert, the company is offering a $200 Gift Card and a free 1k and 5k service to anyone who purchases a 2013 model Harley-Davidson from now until October 13, 2013.
The exclusive mini concert at Centennial-Park Harley-Davidson will precede Atkins performance at Midland Theatre in Newark later that night.
Centennial-Park Harley-Davidson is eager to show off the dealership's new features. "Centennial Grove," an impressive space with 100 newly planted specimen trees, as well as its new showroom addition and parking lot, speak to the vast investment owner, Bob Althoff, has made.